87 Makoto Shinkai(Animated Film Director)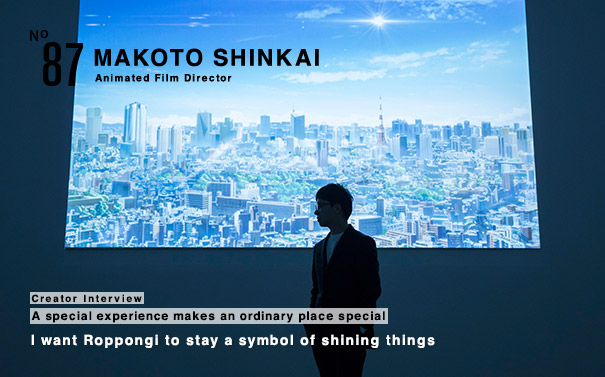 Feature length animated film "Your Name (Kimi no na wa.)" opened in theaters in 2016. It was wildly popular and became a social phenomenon. Mr. Shinkai's films are famous for their overwhelmingly beautiful images with many scenes from Tokyo, including Roppongi. How does he choose the places of action then make them into the images in his animated films? We asked him about the ties between the story and the city.
update_2017.11.29 / photo_mariko tagashira / text_ikuko hyodo
I can come to Roppongi only after I finished working on a film.
To me Roppongi is a shiny place that I can only come for the first preview or the on-stage greeting after I completed a film. Since I started working with Toho, I often come to TOHO Cinemas Roppoigi Hills for the first stage greetings. I find the places I pass by before reaching the theater are so luxurious. It takes about 2 years to complete a film, so Roppoingi feels like a very special place to me.
In "Your Name", the hero Taki goes on a date with Ms. Okudera-senpai, an older co-worker, in Roppongi. I chose Roppongi to show that Taki, a high school student, was trying to look more grown-up than he really was not very successfully. He got overwhelmed by the sparkling things he saw and touched and felt small in shiny Roppongi.
On the other hand, the one who chose Roppongi to date with Ms. Okudera was Mitsuha in Taki's body, and it somewhat meant a sightseeing for her. Mitsuha, a country girl, wanted to go to Roppongi. Okudera-senpai and Taki had lunch at a café in the National Art Center, Tokyo, but I too would have been nervous if I went there with someone on a date. How should I order, do I have enough money... if I were in high school, even worse.
Real scenery is more convincing on screen.
I often make stories of contemporary Japan because I like the style. Then I also want to use the real location consequently. One of the reasons is if you use a real location, it will offer a setting for the film. When you make a fantasy, it would not be convincing without making up the details such as how old the streets are, how heavy the traffic is or how many stores there are. To make the characters real, you need histories for the background too. In that regard, real sceneries will look convincing on screen because the real sceneries naturally have histories.
I found again with "Your Name" that unexpectedly many people get happy when they see real places in a film, exclaiming 'I have been there!' or 'I have seen that!' That makes me happy too, so I think I can put more of such things in my film. I make contemporary stories because I want to make stories of the people who are living now. That is why I use Tokyo as the setting for my film. Tokyo is the closest city to me.
At the same time, I feel my stories could be anywhere. A story could happen to anyone, anywhere. If I put a scene in Tokyo in my film the place might become a special place to the audience. But it happens in life every day. If you walk on a path with your loved one, the path becomes a special place.
It is not that a story is born from a special place, but a place where you had a special experience becomes a special place.