68 Genki Kawamura(Film Producer)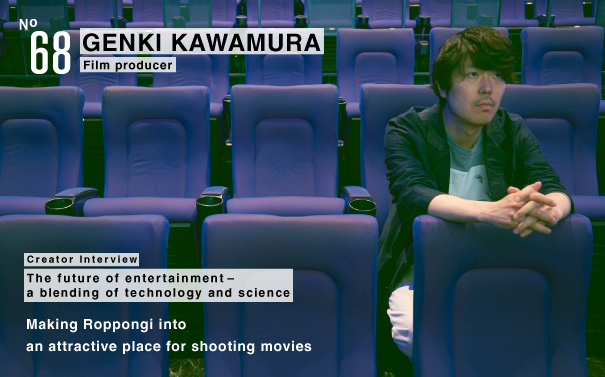 Film producer Genki Kawamura。 has produced many hit movies such as "Train Man", "Confessions", "Moteki" and "Bakuman". He is also author of the bestselling novel "Oku otoko (hundred million man)" and books such as ""Rikei ni manabu (Learning from science)" and "Cho Kikaku Kaigi (Ultra planning conference)". The photographs for the interview were taken at TOHO Cinemas Roppongi Hills where the movie "If Cats Disappeared from the World" - an adaption of Kawamura's novel - is playing. We started the interview by asking Kawamura for ideas to change Roppongi into an area of entertainment.
update_2016.6.1 / photo_tsukao/ text_kentaro inoue
The appeal of the Roppongi intersection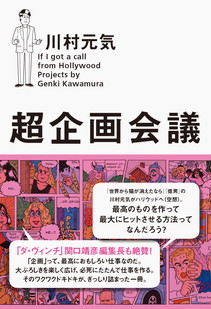 When the Kabukicho area was redeveloped, the head of Godzilla was placed on top of TOHO Cinemas Shinjuku building and it became extremely popular. That cinema complex now draws the largest number of audiences in Japan. Many foreigners come to look at the Godzilla and the street has been transformed. We might want to attract people with grander things, but the popularity of the Godzilla head makes it clear that it's the fairly ordinary things that resonate with people.
There are scenes of the "scramble" crossing in Shibuya in many Hollywood movies like "Lost in Translation" and "Cars." There's that huge screen on the QFRONT building and people come from all directions and walk across that circular intersection. When foreigners think of Tokyo, they think of Kabukicho and the scramble crossing in Shibuya - those are the places that Sofia Coppola shot in her movie. So maybe we should consider what we can do to make the Roppongi intersection an attractive movie location for Sofia Coppola.
I think the lack of a fixed concept is what makes places like Shinjuku, Shibuya and Roppongi interesting. Trends keep coming and going and these places swallow up all the changes that take place. So I feel that in Roppongi we should set up something that draws people and is like a mirror that reflects human desires.
A huge LED screen showing the latest cool images
Perhaps we could set up the world's largest LED screen on the wall of a building. We could win with a thing like that. The number of things that Japan can boast as being number one in the world is dwindling. So it would be good if we could have at least one thing that is number one in the world at the Roppongi intersection. We would probably need cooperation from the real estate people for this though. (laughs)
The screen would show the latest cool images made in Japan - everything from movies and anime to adverts and music videos, and foreigners will see it and go "Woah." People watching it could send their comments through their smartphones and the comments will be displayed instantly on the screen just like Nico Nico Douga. The Times Square in New York is a bit like that isn't it? The screen will show adverts of high-momentum companies of the world and it will be thrill just to go near the screen. Top Japanese creators could take turns in making works to be shown on the screen. I would love to do the curation for this.
I think the appeal of Tokyo lies in its speedy transformation and multi-layered complexity. Advances are being made in art, music, fashion and in technology like computer graphics and artificial intelligence, and each genre is uniquely evolving with a sort of Galápagos syndrome. We should have something that represents that and which also symbolizes Tokyo - the world's fastest changing city. I don't think it's a good idea to decide on a theme or a catchphrase because the streets of Tokyo change too quickly. And when you make things in line with a certain concept, there's the risk that about 80% of the people will not be enthusiastic about it.
A place where all kinds of things are jumbled together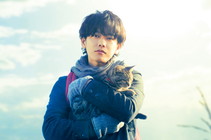 The movies I make are viewed as belonging to the side alley of the Japanese movie industry and that's why they tend to be categorized in the "Roppongi Cinemas" group and not in the "Yurakucho Nichigeki" group. For the premiere of "If Cats Disappeared from the World", I made greetings from the stage here at TOHO Cinemas Roppongi and we had a party at the adjacent Curtain Call lounge.
Roppongi has movie theaters and art museums, and you can enjoy shopping and dining at good restaurants. You can watch live performances, and of course there are many night-life establishments. It's a place where all kinds of things are jumbled together. It's an area that embodies all that is good about Japan and Tokyo. I like cities. My favorite city is New York.
New York has movies, theaters, music, food and art and it's a place where you can enjoy yourself by just being there. I try to go there at least once a year. I find that the trends are always changing, and what is fashionable in food and culture and everything else changes in just one year. The fluidity is so attractive. It's a place with flexibility and which is accepting of constant transformation. I am drawn to the way the streets have been developed - they don't construct a building and expect you to stay there.