35 Jin Katagiri (Actor/Sculptor)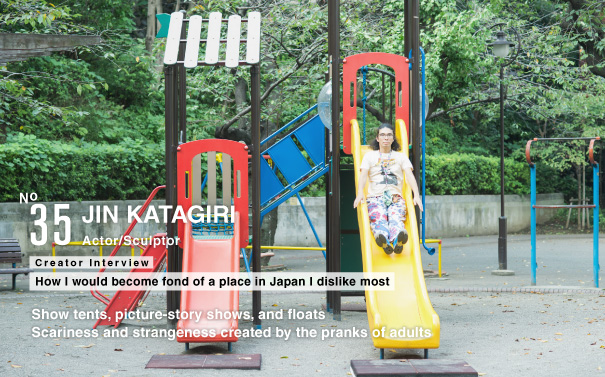 Jin Katagiri, member of the comedy duo "Rahmens", is also an artist known for his clay sculptures. In our series of "creator interviews", the creator often talks about ideas to enhance Roppongi through design and art. This interview turned out to be slightly different however, for Katagiri began by making some unexpected comments.
photo_ryumon kagioka / text_kentaro inoue
Why I dislike Roppongi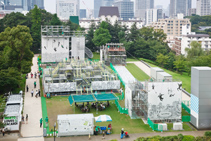 Roppongi is a place in Japan that I dislike most. I've come here to do live "konto" comedy performances, and I often visit for movie previews. On my days off, I've come with my children for the "One Piece" exhibition held at Roppongi Hills and the other day, I came to have fun at "Midpark Athletic" in Tokyo Midtown. Roppongi has been good to me so many times, and yet each time I visit, I think to myself that I will never come again. (laughs)
First of all, it's absolutely not family-friendly. When I look for places to have a meal, all the restaurants are fancy places that don't seem to be welcoming of children; I feel that the people are thinking, "Oh no, are these people coming in?" And when I come to Roppongi by myself, the foreigners in front of Don Quijote act as if I am in their way. Roppongi Hills is like a maze, and Tokyo Midtown has so many entrances that I get lost. Most of these feelings are probably paranoid, but I somehow end up feeling like a loser and get the urge to go home...
I'm from Saitama, and when I was a child, family outings to Tokyo meant going to Ginza. We never even thought about visiting Roppongi. The word "Roppongi" makes me think of a murky sort of world where creators are working busily and the streets are always awake. It's like an underworld which is a frightening because there's something you can't quite fully understand about it. That's one reason why I dislike this area.
Shimokitazawa, a town in Tokyo that is permissive
When I ask myself which town I like, I realize that it's Shimokitazawa where I lived around the time we started "Rahmens". Shimokitazawa was my first Tokyo abode. To be more precise, it was my first time to live in one of the 23 Tokyo cities; when I was a student, I lived in Hachioji and Musashisakai which are also part of Tokyo. Come to think of it, I also disliked Hachioji as much as Roppongi. There were many delinquents, and lots of hills, and it was quite far from Shinjuku. It was hot in the summer and cold in the winter, and the water pipes froze, and there was no Tokyu Hands store... (laughs)
For about five years from 1996, I lived in a four and half tatami room in an apartment located between Shimokitazawa and Sasatsuka. I chose Shimokitazawa for its convenience - you can go straight to Shinjuku and Shibuya without changing trains - and also simply because it was a town I admired. "Banana man" Shitara-san and many of my friends who were comedy performers also lived there. Another reason for choosing Shimokitazawa is that I wanted to live near this spooky store called "Future Shop" which sold figures and models.
Narrow, messy streets can be interesting. There was a time when I came across an accessory shop with a notice at the front that said "Open" but was pitch black inside. I went nervously inside and a middle-aged man with a pair of pincers in his hand came and chased me, and I ran away shouting "Sorry! Sorry!" Another time, I saw these intimidating-looking gay men in the street in front of Honda Gekijo theater, walking abreast in a line like the characters from the TV drama "G Men '75". Strange things happened that I could not make sense of.
Shimokitazawa is highly populated so I sometimes walked the streets selling tickets for live performances. I'm not making the point that I cherish that kind of interaction with people, but Shimokitazawa was a place in Tokyo that seemed permissive. At least I didn't feel the scariness that I feel in Roppongi.
Getting the feeling that Roppongi isn't a bad place
Both Shimokitazawa and Roppongi have unfathomable aspects and yet Roppongi is scary and Shimokitazawa is not. Maybe one reason for that is because Shimokitazawa is a "low town" - it doesn't have any high buildings. But in Roppongi, you look up and you feel that the buildings are looking down on you.
I'm saying these things, but my children have a great time in Roppongi, getting excited at the Roppongi Hills Observatory and romping around the lawn in Tokyo Midtown Garden. I must admit that being interviewed here today and seeing the view from the Midtown Tower, I get the feeling that Roppongi isn't a bad place.