A human woman becomes a surrogate mother to a dolphin, and a "family photo" is generated by extracting DNA information from an actual same-sex couple… Ai Hasegawa presents art that questions the future of reproduction and family structures through speculative design that uses biological challenges and technological advancements as motifs. We interviewed her about past representative work and her work currently on display at the Future and the Arts: AI, Robotics, Cities, Life - How Humanity Will Live Tomorrow exhibition at the Mori Art Museum to get a better sense of her alternative image of the future based on scientific approaches.
Cockroaches as colorful, functional food?!
Currently at the Future and the Arts exhibition, I have two projects on display that are like research presentations that examine how technology can open up new possibilities. POP ROACH is an almost joke-like project that originated when I tried to come up with a way to make cockroaches appetizing, because it occurred to me that it might be selfish that we eat all kinds of food and meat but adamantly refuse to eat cockroaches.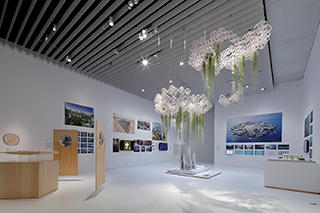 Future and the Arts: AI, Robotics, Cities, Life - How Humanity Will Live Tomorrow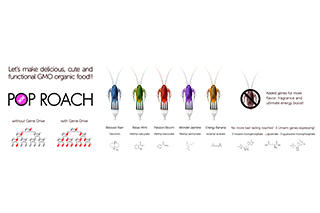 This project studies what would happen if we modified brown cockroaches into colorful, functional food using "Gene Drive," a genome editing technology that can completely reinvent a particular species in just a few generations, therefore making it potentially dangerous if used in the wrong way. I personally loathe cockroaches. When I heard that house-dwelling cockroaches emerge along with houses because they have adapted so intimately with human living environments, I instinctively wished the house-dwelling species would go extinct given that they weren't part of the natural forest ecosystem. Still, forcing a species into extinction isn't exactly ideal, so I wondered if we could modify them to be a little easier to live with--into creatures with clear benefits for the human race, although I realize that's egotistical enough as it is.
Currently, capitalism has gone too far in the United States, and medicine is starting to become a thing that is too expensive to obtain. In light of this, some endeavors have started in an attempt to enable cheaper at-home production, and Pop Roaches are similar to that kind of biohacking. I designed the project looking at multivitamin drinks to make it sound convincing as a functional food. For example, I designed the blue "Blessed Rain" cockroach to have antidepressant properties, and I imagined the roaches to supplement lack of food, nutrition, and medication.
Of course, there is ample room for criticism. There is a risk that house-dwelling cockroaches may interbreed with wood coakroaches, rewriting the DNA of all existing cockroaches. One cannot predict what will happen with organisms until you actually release them into the wild. As such, I blithely believed that this was purely a theoretical project, but just the other day an overseas researcher who is seriously trying to make a local industry out of edible insects told me that my project feels offensive for making a joke out of eating insects. The researcher also pointed out that it's nonsensical to go through the hassle of genetically modifying cockroaches to make them edible when much tastier insects already exist, which was enlightening. Whether appreciative or critical, I want to receive more comments like that, since that's what opens my eyes to what comes next.
Parenting in an age where raising children is difficult
Shared Baby is a project that I already presented once in 2011. I lived in London at the time, and used to get together with my partner and two other designer couples as if we were family. One day, one of the women said, "It'd be nice to have a kid sometime soon, but I don't know if I can afford it financially..." This is what inspired this project. Our discussion took a serious turn, questioning what kind of choices designers, artists, and other financially unstable individuals have in an age where things that used to be a matter of fact for most families, such as buying a house or raising children, are not as easy to do compared to our parents' generation. The three men present were all from different countries and racial backgrounds, and the first woman then said, "If we mix sperm from the three of you and I deliver the baby, maybe we could say the baby belongs to all six of us and raise the kid together." Of course, DNA tests are easy to do now, and I think the biological father would have been obvious regardless, but I did think that it might be fair and enjoyable if it were actually possible to have a child who evenly shared genes from all six of us. Still, all kinds of disagreements emerge in parenting even with just one married couple, so I continue to research whether it's realistic for multiple parents to raise a child together.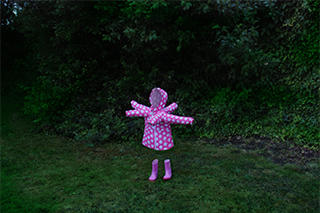 There are three monitors set up in the exhibition, each showing a different video. One consults a child psychiatrist about the good and bad effects on a child of having multiple parents. It also includes interviews with people who are actually raising children in a multi-generational coliving environment, as well as with a researcher studying the ethical issues of using iPS cells.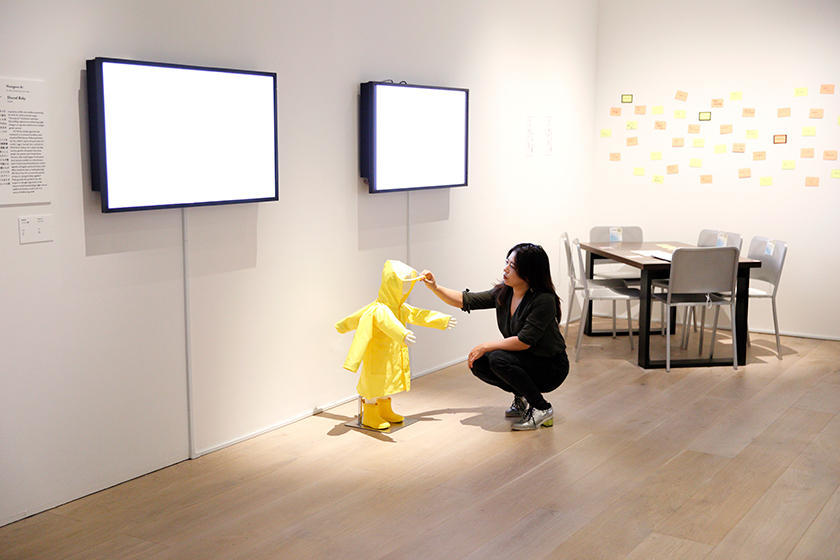 Should we live suppressing our animal instincts?
A particularly interesting thing I heard from someone who does research on reproductive technology, such as freezing eggs, was that it's odd that nobody in Japan seems to realize how abnormal it is to only have one ideal "family type." It's true that people still tend to reject alternative types of families in Japan, which is a deep-rooted problem. Nobody takes issue with someone who wants to choose the perfect partner, which essentially means wanting to make a child with someone who has excellent qualities in all aspects, despite its eugenic connotations. But the moment technology comes into the picture, people question if it's ethical, which is strange. The joy of having a child who has inherited the good qualities of the people you love is a straightforward wish, and doesn't seem like something that should be met with so much rejection. Is it really worth suppressing our animal instincts like that? I have also met with law experts to discuss the legal aspects of a having multiple parents in charge of a child, and it was interesting to hear that the adoption laws in Japan might actually make it easier to allow custody to multiple parents.
One of the other videos shows a thought experiment workshop that examines what kind of problems would arise if a group of four people (including me) had a shared baby. First, I had the group write the good and bad things that could happen in the family on some cards. For example, getting together with family for New Year's is a happy occasion, but couples often argue which set of grandparents to visit as it is. It would get even more convoluted with more parents, and with multiple mothers, obviously the child may favor one mother over the other(s). We brainstormed the details of these kinds of potential situations in this mock experience and made group decisions about parenting that were agreeable to everyone. I thought it must be so nice to be the child who would be raised with such care and attention, but one participant who played the role of the child made a comment that, "I might have wanted to be born to parents who got together out of romantic love, and there's something unappealing about seeing your parents allocate parenting duties like it's a job."
Why are we so fixated on blood relations?
Having done this project, I wondered why we were so stuck on the idea of having blood relations, when for example we could also communally adopt a child. One of the male participants who played the role of a parent stated, "Perhaps the notion that your DNA makes up 25% of the child gives you more of a sense of responsibility for parenting, kind of like if you buy 25% of a company's stocks and you're responsible for that portion." Maybe the expectation that some part of the child will be like you and an accompanying sense of responsibility is what glorifies the idea of blood relations.
The third video introduces several ways in which technology can be use to create a shared baby and creates a "future kinship map" that shows how kin relationships work in that case. It presents the complex relationships that could arise from this use of technology, and I drew my inspiration from cultural anthropology. Research in this field has already found that cultural aspects can change conventional family structures. A theorist named Donna Haraway has upheld a slogan for multispecies coexistence--"Make Kin Not Babies "-- in recent years. If we hope for a continued future for humankind, I think that the idea of gradually decreasing the human population and working to coexist with multiple other species makes sense in a way, so I believe we have to dig into that theme when thinking about the future. Also in terms of how cities should function, I'm personally interested in how we should build relationships with other creatures in living our lives.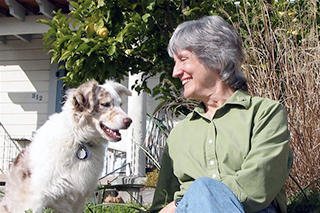 Looking to science for a solution to suffering
Back in 2011 when I first presented Shared Baby, there was practically no technology to enable that project. But now there have been reports of actual "designer babies" with the invention of the genome editing technology CRISPR-Cas9, and it's technically possible to create a child using genes from 100 different parents. Meanwhile, the technology of in vitro gemetogenesis (IVG) is making steady progress, which will allow sperm or eggs to be made outside of the human body using other cells, so I think creating a child from multiple parents will eventually be possible even without the use of genome editing technology. Now that these kinds of options are becoming real possibilities, I thought it was a good time to revisit the project.
I have now returned to Japan from America and have been living in a communal living space for the past three years. It's not without its inconveniences, but the fun of living with different people outweighs those hassles, making me want to get back to creating networks as a way of life. Perhaps Shared Baby is essentially like living in an Edo period nagaya, a communal house rented out to members of the common class. Residents of these nagaya would share parenting duties, although I believe some of that is attributed to the fact that it was sometimes ambiguous who the true parents were. Technology makes it easy to figure that out now, but how do we recapture that way of thinking? It was interesting to see that through the workshop, we came to the conclusion: "If we succeed in raising a child with the four of us, why not adopt the next child?"
The trust we put in scientific technology is perhaps largely due to our becoming skeptical of religion and fairytales. In my case, I used to turn to religion in times of distress, but I find that I can no longer do that. Perhaps I look to science for hope, and that is why I do the research that I do.
The reason my artwork includes keywords such as "childbirth," "environmental damage," and "endangered species" is simply because I feel that we are no longer in an age where the slogan "give birth and multiply" holds. Perhaps the point of capitalism is to spread, but I don't think we can afford to say that anymore in the current environment. So how should we deal with the human instinct of wanting to have a child? We might be able to keep our population contained if we give birth to animals as surrogate mothers like in my I Wanna Deliver a Dolphin... project, or make one child for four people like in my Shared Baby project. I think of these as conceivable solutions that let people address their desires to have their own children or pass their genetic information on to the next generation while still suppressing human population growth. Either way, the human population is supposed to start decreasing soon, but then there are a lot of things I wonder about, such as what would happen to the issue of antinatalism. I think we're currently far too casual in thinking about the earth's resources, and that we're still grossly overpopulated.
《I Wanna Deliver a Dolphin...》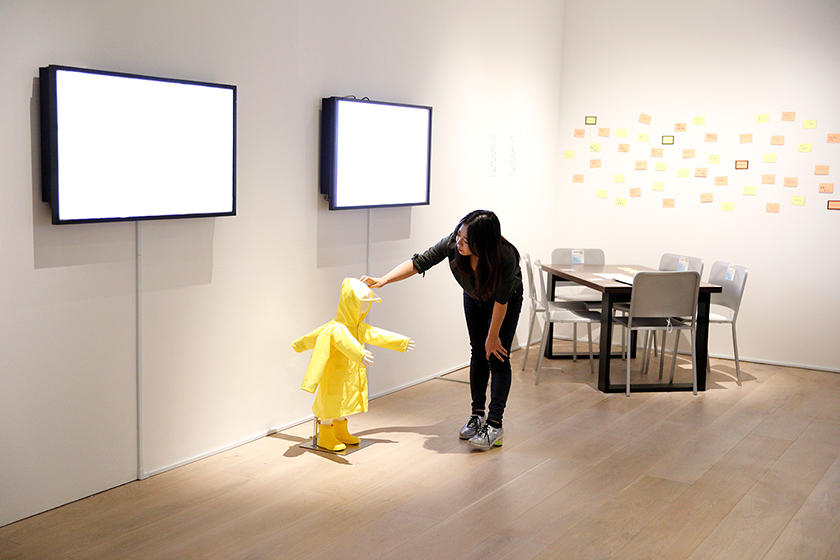 We can never spread awareness unless people other than those directly concerned get involved
While science offers hope, it also comes with potentially dangerous risks. That is why I want my work to not just focus on utopian visions but also serve as a platform for debate. Especially when actual technology is close to emulating what I propose, like in my recent projects, I take care to juxtapose the beneficial aspects with the problematic ones. I make it a point not to direct the debate but to present the work as a guide to deepen the discussion, and to make sure that my position is completely neutral.
Looking at past work, the (Im)possible Baby project was extremely difficult to navigate in that aspect, and I struggled to be neutral in thinking about sexual minorities and the concept of same-gender couples having biological offspring. The Alt-Bias Gun project similarly exists to spark debate, but people may point out that I intentionally align myself with the "Black Lives Matter" movement in creating it. The reality of the matter is that in the United States, African Americans are far more likely to get fatally shot by police compared to white people. With no end of cases where African Americans are being killed despite being unarmed, my project proposes that if police are reflexively pulling the trigger out of fear, perhaps programming the gun to lock the trigger for a few seconds depending on the target's face may help even out the bias. However, this does mean that the police officer will temporarily lose the means to protect him or herself, leading to a situation where their lives are now taken lightly, in a sense. Even then, I received comments such as "You still haven't put yourself in the shoes of African Americans," and "What's the reason for you to propose this?" making me realize how hard it is for an outsider to raise these kinds of issues.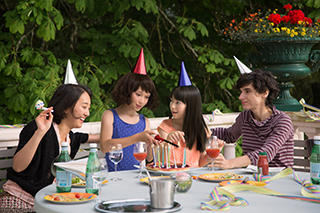 《(Im)possible Baby, Case 01: Asako & Moriga》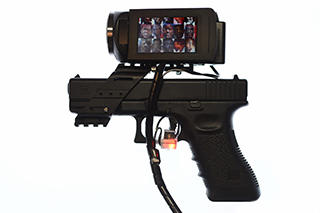 I got similar comments with the (Im)possible Baby project, but my counterargument is that we can never spread awareness unless people other than those directly concerned get involved. However, I do think that it's very important to take the utmost care to not end up exploiting someone else's pain.
Nowadays, art as activism tends to get attention. The revolutionary things that are actually happening in the world are of course very important, but I think it's equally important to imagine worlds of alternative possibilities. The power to combat actual existing problems and the power to imagine a world that is free of those problems are actually very difficult to connect properly. In that sense, my guidebook has been The Language of the Night: Essays on Fantasy and Science Fiction by Ursula K. Le Guin , the author known for her Earthsea series and The Left Hand of Darkness. It's actually not that hard to include social criticism in fantasy, but apparently her stance was to put aside actual society in creating different but realistic worlds, which was enlightening.
Make Roppongi more open, not just to Europe and North America but also to other Asian regions and beyond
Roppongi has the image of being a place to visit to look at art and design, but I wish there were fewer restrictions for ordinary people to do things on the street. For example in the U.K., there are a lot of open spaces that are available for public use, and farmers markets pop up all over the place on the weekends. But try and do something in a public space in Tokyo, and someone immediately shuts you down. That's a little suffocating, and I wish that there were more spaces that residents and visitors could use freely to some extent.
Back in London, I lived near a fairly big park called Finsbury Park. The area had a lot of immigrants and I enjoyed a lot of Ethiopian food there. In the summer, festivals and carnivals would come to the park, and I also sometimes used the space to prepare large-scale installations or practice performances for the art company I worked for at the time. Sometimes people from the neighborhood would come to see what I was up to and strike up a conversation, and I even made a kamakura (a domed hut made of snow) once in the winter. I wish that there were more areas with lots of space and nature like that in Tokyo, that were open for both official and private use and to people like me. In Roppongi, I'd want to hold a festival for all kinds of cultural communities to gather: an event that involves all kinds of mediums such as multinational and multicultural food, music, and clothes. Among all those things, I would want to organize an SF community (SF here could mean science fiction, speculative fiction, speculative feminism, or even sukoshi fushigi [a little supernatural]) and present The Extreme Environment Love Hotel in a kind of popup carnival form with the Jupiter and Carboniferous Rooms. There, I would hold conversations with people from diverse cultures about prehistoric Earth, the distant future, the age when people will make it to Jupiter, and human evolution.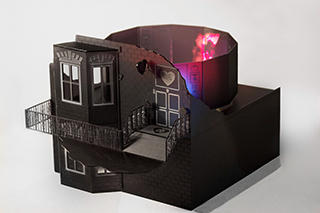 《The Extreme Environment Love Hotel》
I wish the bon dance festivals ran for longer periods in the summer, too. When I was studying art at IAMAS in Gifu Prefecture, I went to the all-night Gujo Hachiman Bon Dance Festival every year. I think bon dancing is a wonderful Japanese cultural asset. The best art events around the world go beyond the confines of a museum and become town-wide events that include surrounding restaurants and things going on in the street, which is amazing. I hope there can be more events in Tokyo that are locally organized in a way that allow citizen involvement.
Living in Europe allowed me to feel other cultures in close proximity. I have also lived in Boston, but I got the impression that it was surprisingly insular. I think Tokyo needs to make more connections overseas and open its doors to the world outside of Japan. In particular, Japan tends to be very open to North America and Europe but not as much to the rest of Asia and other regions. In that respect, London is open to all countries. That may have something to do with Britain's past of colonial exploitation, but there are many people from Africa and the Middle East, and a much more diverse range of cultures flow in than are visible through the media. For example, a few years ago when I was struggling financially, I struck up a casual conversation with some refugees in a park. They told me their story of how they fled to London, and it was extremely harrowing. I think the fact that they are managing to lead happy lives in the U.K. is a wonderful thing. The number of immigrants are increasing in Japan, but there is a disconnect between the influx of culture and people, and I think we need to do more to connect the two. I have seen how interesting London has become in terms of food, music, and art with the incoming of other cultures, so I hope that the same might happen in Japan as well.
Everyone learns through making repeated mistakes
Having spent the past three years as a researcher at Tokyo University, I really feel the hazards of having such a clear divide between the sciences and the humanities. There are also very few women in engineering. For the first two years, all of the students study together in the College of Arts and Sciences where they receive a liberal arts education, but partly because there is such a wide range of courses to choose from, it seems that students who want to pursue science often end up only taking science-related courses from the very beginning. Even if a student is going to major in the sciences, they should still study the humanities properly or else they have the risk of being ignorant of all kinds of biases. Even Ursula K. Le Guin, who I mentioned earlier, has made apologies regretting how ignorant she was of the way her past wording or story settings created bias. I also make mistakes all the time. Nobody can learn in an instant. Learning is a gradual process that builds on repeated mistakes, and that's why I think education is so important. Especially because I cover ethically sensitive themes in my work, I have to learn properly. In that regard, people in cultural anthropology and the social sciences are able to assess things from extremely critical perspectives, and there's much for me to learn from those fields.
Japanese people need to learn more about the state of the world, myself included, and we can't afford to remain insular any longer. Meanwhile, I'm sure there are ways to live happy, fulfilling lives without capitalist growth, and I believe what we need here on out is to train people in exploring those kinds of perspectives.