96 Shiho Fukuhara(Bio Artist)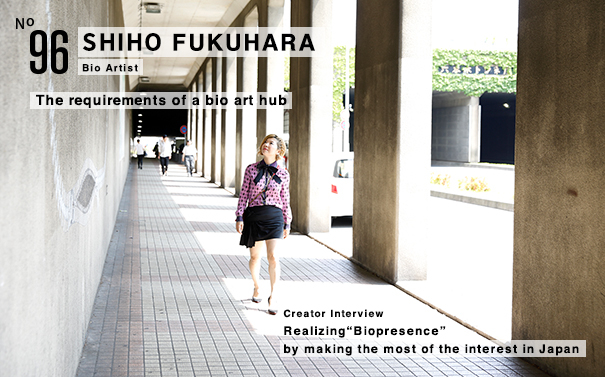 Shiho Fukuhara gained attention in London as a bio artist. While based in Tokyo, she currently travels to cities around the world. Her works blend biotechnology with art and have the effect of shaking our conventional views on life, and raising questions about ethics. Her works include Biopresence where the DNA of a deceased person is preserved in a tree, and Common Flowers / Flower Commons that are genetically-modified blue carnations turned back to white carnations. Fukuhara is an artist in a genre that is likely to grow in the future. We were curious to know about the potential she sees in Roppongi. She gave us interesting views while making comparisons with cities in other countries.
update_2018.9.5 / photo_yoshikuni nakagawa / text_ikuko hyodo
The bio art project which was almost realized in Roppongi
Roppongi is a place I have ties to. My office is now located here, and about two years before Tokyo Midtown was built, I was approached about planting "Biopresence" in the compounds. As I remember it, the concept for the project was "garden" and the area around Midtown Garden was to be the stage. We planned to publicly seek someone who would offer their genes. Under the plan, this person would explain the reason for wanting to preserve his or her genes, and we would make a documentary movie about the growing tree. Preserving human genes in plants had become basically possible. The plan was to choose a tree that would take decades to become big; I remember that we were very excited when talking about how nice it would be if the person's children and grandchildren would visit the tree in later years. But after I candidly pointed out that some people have negative views about the ethical question of genetic modification, it became difficult for the project to go forward...
When I came back from England and started making artwork in Japan, Roppongi was being transformed into an area of art; the National Art Center, Tokyo had just been built, and many art galleries were relocating here. I lived in Tokyo until I was 18, and there was an image in my mind of Roppongi being a scary place filled with drunken middle-aged men. So when I returned to Japan, it seemed strange to me that Roppongi had become a place for art. Now, of course, it makes sense to me.
Pedestrians in Roppongi are not easily surprised
In May this year, I was invited to participate in the FIS TOKYO (Future Innovators Summit TOKYO) held in Tokyo Midtown. We sat at a table placed in the shopping mall and had a discussion. I think that would normally be considered a peculiar sight, but the people passing by didn't seem to be particularly surprised; they would stop and listen to what we were saying or just look at us from afar as if they were thinking, "Oh, some kind of event is going on." All kinds of events and performances are held in this area, and I thought it was interesting how the passers-by seemed to think anything can happen at any time.
The art galleries in Roppongi are relatively well known overseas, but I think few people abroad regard Roppongi as being an area of art. To spread the view that Roppongi is an area of art, perhaps it would be a good idea to hold Roppongi Art Night for a period of several days instead of just one night. Roppongi Art Night is an event that is very compatible with the lively atmosphere of Roppongi. It's good how people who are not very familiar with art can casually come here on a date and enjoy themselves. It's an event that would be difficult to hold in other parts of Tokyo since it requires a fairly large space. I assume that Roppong Art Night was inspired by La Nuit Blanche in Paris but there is a strong sense of safety in Tokyo with regard to security. The drawback is that the event is so short. This year, I woke up in the middle of the night, intending to go, but I got the date wrong, and the event had already ended the day before. (laughs) There are probably many people like me who have done the same thing. I wish Roppongi Art Night could be held for about three days at least.
There is a similar art event in London, and all the art galleries gathered in one area are open at the same time as the event. Visitors have the opportunity to drop in the various art galleries, and the art galleries are able to have easy publicity. Alcohol is often served at the opening of the event, so there are people who come for the drinks; other people, expecting to meet their friends, bring their own drinks and have fun in the streets. It's a win-win situation that works efficiently. I wish the same kind of thing can happen in Roppongi where there are many art galleries.
Bio artists around the world should come to Japan
Bio art has a short story in Japan, and it is not widely recognized yet. So there is the possibility of all kinds of bio artists and works appearing in the future. In Europe and America, the definition of bio art is fairly fixed, but in Japan, its definition is still loose. Before, I used to have a narrow way of thinking and I thought that works based on movies and photographs could not be called bio art; I believed that biological phenomena should be used as materials and methods for making bio art. That raised the hurdle, but I thought this hurdle was important for all kinds of creativity, and I didn't like works that just told a story. Recently however, I've come to think that accepting those kinds of works is in line with the Japanese spirit, and that it contributes towards diversity and tolerance in Japan. So I am no longer particular about what should be defined as bio art.
A recent trend I find interesting is the connection that biotechnology has with economic activity. Advances in biotechnology are now faster than advances in Internet and computers, and investors are apparently sensing a lot of potential in biotechnology. Looking at the media and other factors, I feel that trends in biotechnology last longer in Japan than in other countries. Taking that into account, I think bio artists around the world should come to Japan. We ourselves are doing activities to invite people. The encouraging thing is that there are few regulations in Japan at the moment. There are some genetic modification experiments which would be difficult to conduct in Europe and America, but which can currently be conducted in Japan. We should definitely make the most of an environment that is permissive to bio artists.