90 Tamae Hirokawa(Fashion Designer)×Akira Wakita(Artist/Scientist)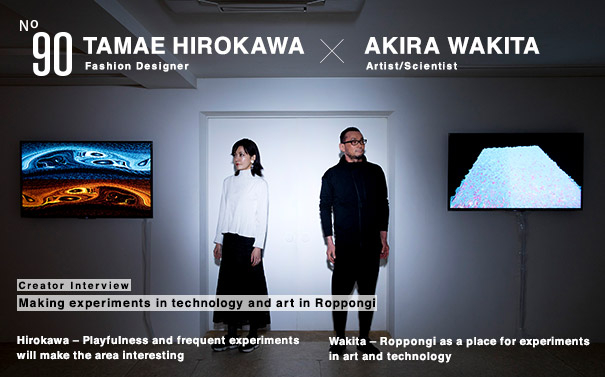 There are many things in nature that humans cannot grasp; Akira Wakita, a scientist and artist, lets us see, hear and sense what is normally beyond our senses through his works that simulate the activities in nature, presenting us with a new perspective of the world. Fashion designer Tamae Hirokawa has a mission to create clothes that are like second skin and creates the "Skin Series" of unsewn knitwear under her brand Somarta. Wakita and Hirokawa both have ties to Roppongi, and we asked them about their views on the potential of art and design in Roppongi.
update_2018.3.28 / photo_mariko tagashira / text_emiri suzuki
The beauty of digital technology, the hand skilled work for clothes
WakitaRegarding my ties with Roppongi, the design company I used to work at was in Azabu Juban, and until about 10 years ago, I used to live near here. Now I work at Keio University Shonan Fujisawa Campus (SFC) and every year, all the university laboratories come to Tokyo Midtown to present their findings at a conference called the Open Research Forum. In 2014, when I headed the executive committee for this forum, we held presentations not only at Tokyo Midtown but also at Super Deluxe and we also made broadcasts at Niccofarre. Now I'm involved in setting up Art and Science Gallery Lab Axiom, and I also hold art exhibitions, so I come about once a week to Roppongi.
HirokawaWhen I was a student, Roppongi seemed to be a very grownup place, so I felt as if I had little to do it. But when Japan Fashion Week was held at Tokyo Midtown, I finally began to get acquainted with Roppongi. This year, I participated in the talk session at Media Ambition Tokyo (MAT).
WakitaI also exhibited my works at MAT 2018, and I've always wanted to talk with Hirokawa-san who employs both computational design and craftsmanship in her designs. Hirokawa-san creates fashion made from new materials that are based on technology and scientific knowledge. I do not know of anyone else who does that kind of research and who also goes as far as making clothes and selling them. I think you are exceptional in that sense. I wonder how you manage it.
HirokawaI feel that designing clothes means taking the whole process into account including the stage where the clothes are delivered to people - that has always been my basic policy. The technology of the unsewn knitwear I make is relatively new in the history of fashion. It draws attention for being unusual, but it's just that there are not many people right now who can use the technology. In a hundred years, it's possible that all our clothes will be unsewn.
Since I was a student, it's been my wish to make clothes that are like skin. It just so happens that the unsewn method and digital technology matched my needs. I myself am actually a very low tech person. (laughs)
WakitaThat is unexpected, but perhaps that's the way it often is. I think that people who deftly use technology are in fact people who know about patient hand skilled work.
HirokawaIn the old days, clothing was made by professionals working alone, but now it's done by group work. In the future, I think a method will be increasingly taken where something is designed and a lot of people get together to create it. Because we now have a situation where the number of handcraftsmen is decreasing, technology and machinery will have to change.
WakitaThat is the essence of it. When a new technology is born, people in the streets and researchers might get excited, but unless high-end fashion companies and large manufacturers have the courage to adopt the technology, it will not become widespread. You are taking on the role of spreading new technology.
HirokawaI'm helped by the people around me. My encounters with people in technology has increased these days, and I've participated in events like MAT, but to me, the world of technology is like a magic world. When machines move on their own like an orchestra, I am amazed and wonder how it all works. I sense a great beauty in it but I am really a layman. (laughs)
WakitaI'm glad that you sense beauty. I often get questions about the mechanism of things. I wish more people would start a discussion by saying "It's lovely, isn't it?" or "How will this change the world in the future?" but people - particularly the Japanese - talk mostly about the technical aspects and how something is made. I think it's important to be naturally moved and to share that sense of wonder with others. A place where you can do that is MAT and I think that is a fine Roppongi event, but there are not many events like it.
HirokawaMAT is certainly an event that brings together people who are tech-savvy and those who are not, and which allows interesting things to happen. I am grateful for the marvelous experiences and challenges that are offered at this event.