85 Mika Ninagawa (Photographer / Film Directer)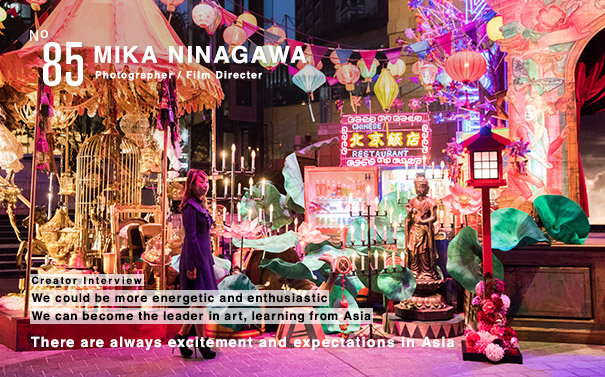 Mika Ninagawa is a photographer, a film maker and an artist with the ability to create a very unique world of her own. She participated as the main artist in Roppongi Art Night 2017; one of the themes of which was 'Southeast Asia'. As luck would have it, she has recently been working more and more in Asia. She will be having a large-scale exhibition in Shanghai in November 2017. We asked her about the future of Roppongi in Asia.
update_2017.10.4 / photo_mariko tagashira / text_ikuko hyodo
How will art change in an era where the border between creator and audience is blurring?
Recently, I have been asked by some non-art people, 'do you also take photographs?' or 'Are you originally a photographer?' more than once. Sure, I make films and am doing more and more activities other than photography; still, to myself, I am definitely a photographer. However, it was refreshing to learn that not everyone sees me that way.
Come to think of it, the only photos I used for the work I did for Roppongi Art Night 2017 were the decorative pinwheels. So, the photography was not the main part of it. I wanted the audience to take photos in the installation and feel my view of the world. I guess it is because of these installations that people do not necessarily see me as a photographer.
Nowadays, both taking photos and having your photo taken have become casual. Releasing them is easy too, good or bad. Borders between creators and audience are getting more and more blurry as people become suddenly stars through SNS, such as AyaBambi who danced on stage for Madonna. I am interested in the infinite expansion of possibility and want to make it the theme of my photos and films, and the installation at Roppongi Art Night was one of them. I liked the mysteriousness of it existing for only 2 days, like a place in a dream.
Even things improve by time, the work you need to put in to create objects does not change.
When I was creating the installations for Roppongi Art Night, I did realize that the work you need to put in to create objects you can actually touch would not change. In this digital age, you would think everything has become much easier to make, but I struggled with what I would create and how, within the limited budget. Creating objects takes money, time, and energy. There are things you just cannot omit. Moreover, as I have told you, I am a photographer. I do not have the know-how for creating objects. I had to start from zero, with no experience as a sculptor or a builder. I felt really nervous about how it would turn out.
I felt very comfortable working for Roppongi Art Night because one of the themes this year was Southeast Asia. Asia is an important area for my recent activities. Right now, I am working mainly in China. About ten years ago, I decided that I would like to become 'Mika Ninagawa of Asia' instead of 'Mika Ninagawa of Japan.' I started out in Taiwan and I held an exhibition last year in Taipei, which became a social phenomenon. People lined up and waited for a few hours to get in. About 130,000 people came to see it over 2 months.
That exhibition was not like Teamlab, where the audience can try interactive installations. It was more like a one-way exhibition, so to speak. Still, people seemed to find ways to enjoy the exhibition, putting the photos of my photos on SNS and taking photos with my photos.
Hoping my work to be wide open, and yet deep to the same extent.
Perhaps partly because I also make films, I feel I am closer to the audience than other artists. Many art lovers have huge intellectual curiosity. But in films, there is 'Doraemon,' there is 'Spider-Man,' and my film is in the same theater too. You can show your work to a wider variety of people. Because of that experience, I think I am good at working for general public, and it is very close to what I originally want to do.
I always hope that my work will be accessable for many people to touch and feel with ease, but at the same time to be unexpectedly deep and lead them to a surprising exit.
For that purpose, Roppongi Art Night suited me as a stage for my works. The location is good enough for the people who are not particularly interested in art to visit. I will be happy if passers-by found it interesting and that would lead them to something. I love to be the first one for someone.