65 Tetsuya Mizuguchi(Media Designer)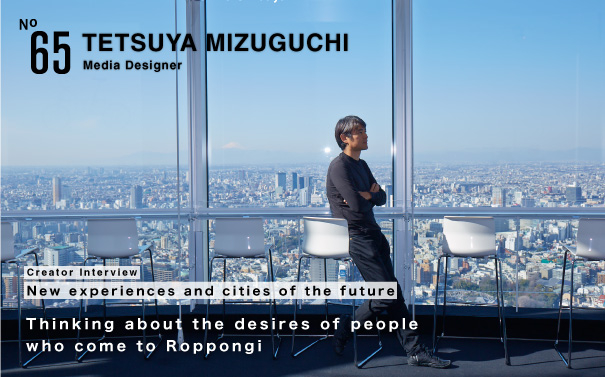 Media artist Tetsuya Mizuguchi is the creator of Rez, the innovative video game for which he was given an Honorary Mention at Prix Ars Electronica - one of the world's most prestigious prizes in media art. Mizuguchi works globally in the fields of music, images, and video games, creating new and breathtaking experiences. In this interview we asked him about the future of Roppongi and how we can provide new experiences for people.
update_2016.2.17 / photo_tsukao / text_kentaro inoue
Designing a city for the people who gather there
 We should start by thinking "To whom does Roppongi belong?" And it becomes clear that Roppongi belongs to the people who live here, the people who work here, the people who come to have fun at night, and the people who come from outside of Tokyo. When we think about who cities belong to, and for whom they should be designed, we come to the conclusion that cities are essentially for the people who gather there. That is the context in which we should contemplate Roppongi. Around 20 million people from abroad visit Japan ever year. Tokyo is in fourth place in the (2015) ranking of global cities. If we really want Tokyo to be in first place, we need to think about the people from other countries who come here.
 We need to think about making Tokyo and Roppongi places that will be loved not only by the residents and the Japanese, but also by foreigners - places that people will want to repeatedly visit. Since I'm a game designer, I would think about how we can entertain the people who gather here. I would want to think about the kind of experiences that will make both foreign and Japanese visitors happy.
 The Shikoku Pilgrimage of 88 temples is probably the world's oldest example of gamification. By applying game design elements, what was originally a tough training process was turned into an experience that could be enjoyed. For example, after a pilgrim visits a certain number of temples, the calling cards he leaves at the temples is changed to a different color; the more temples he visits, the higher his status becomes. The Shikoku Pilgrimage is a well-designed framework within which people can have a positive, rewarding experience. It's almost like an invention. Today, nearly everyone has a smartphone and there is an established network, and I feel that it's about time that we applied game elements for social use.
The importance of providing information to visitors
 When I talk to foreigners who come to Japan, I often find out that they mostly visit the sites described in guidebooks and on social networking service. It's clear that the amount of information that is available to visitors to Japan is still very small. I myself like taking walks on the weekends, and I often go to the weekend markets or to the "depachika" (underground food floor of department stores). I stroll about and buy produce grown in all parts of Japan or I have meals at restaurants. There is a lot of greenery in the middle of Tokyo and it's really lovely. But I don't see many foreigners in the places where I take walks.
 At the moment, there are still many foreign visitors who just take photos at the typical tourist sites and do some shopping, but after a while, when they become more experienced, they will want to have their own personal experiences. They will start seeking untrodden paths, and it will be increasingly important to make enough information accessible to them.
 Walking around the Roppongi area is interesting as there are so many things to see. I personally like going from the back of Tokyo Midtown to Akasaka. I also like wandering through the shopping area of Azabu Juban. When walking in the back streets, I make all kinds of unexpected discoveries, coming across shrines or learning, for example, about how the name of a certain slope can be traced back to the history of Tokyo. There are the old things and the brand new things in Roppongi; I think people will find this area more attractive if they could experience the blend of both elements. How about thinking of a route that foreigners will want to walk? You could think of walking routes that last 30 minutes or 60 minutes and so on. It might be a good idea to team up with foreigners who appreciate Japan and make maps and signs for tourists. Perhaps you could also make augmented reality applications.
"Rez Infinite" - a 3D world without frames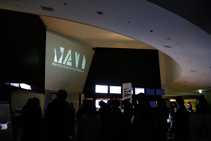 A lot of the people I work with are based in Roppongi, so I come here about three times a week. But I stay away from the entertainment district. There was a time when I enjoyed the chaos there, but these days I like to keep my distance and observe it from afar. (laughs)
 At Media Ambition Tokyo 2016, I will be exhibiting the virtual reality game "Rez Infinite". It's a game where the sound effects that you make turn into music. The music connects with the visuals, and there is vibration, and you get a synesthesia experience. It is virtual reality where you can experience the images and the music in a three dimensional way.
Rez Infinite is based on Rez which I made in 2001. It was two-dimensional then and I had to fit everything to the 4:3 screen. Now it's full high-definition and wherever you look - up or down, left or right - it's a three-dimensional world without any frames. Whether it's the real world or the unreal world that can be experienced through the kind of works I make, experiences are specific to a certain time and certain place. I'm sure many kinds of experiences await us in the future.