50 Seiichi Saito (Creative Director)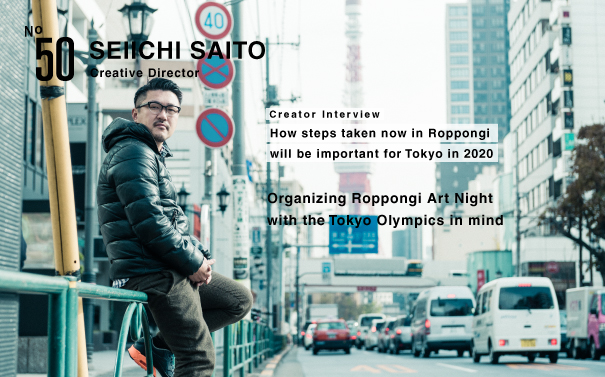 For our benchmark 50th "creator interview", we talked to Seiichi Saito, the head of design company Rhizomatiks, which has undertaken many innovative interactive works. Rhizomatiks has conceived experience-oriented events such as the memorable "FULL CONTROL TOKYO" where participants used au smart phones. Saito has been appointed media art director for "Roppongi Art Night 2015" to be held in April. He told us about the project he would like to do in Roppongi and then went on to talk about Roppongi Art Night and the Tokyo Olympics in 2020.
update_2015.1.7 / text_kentaro inoue
Reflecting on the legacy of the restaurant "Chianti"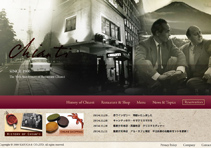 I think it would be nice if we could reflect on the legacy of that famous restaurant "Chianti". I've been talking about this to a lot of people. I wish we could have a retrospective study of all the design and art and culture born from that establishment. That's probably the foremost project I would like to be doing right now.
Of course, I know that a book on Chiant has already been published. And the other day, I saw a NHK TV program about Kajiko Kawazoe-san, the wife of the former Chianti owner, but all these are just fragments. I've heard stories from many senpai (seniors) in various fields about those days, but I feel there is a lot more to it. There are so many people I know who frequented that restaurant, and the total number of people who went there is huge: there must be all sorts of unknown stories that perhaps cannot be easily told.
Some of the older senpai who gathered at Chianti have retired or passed away, and we have little time left to make a movie, so we should do it now. Using film and words, I want to document what went on at that restaurant - what people talked about there. I want to sew all the fragments together.
A place where tiny cultural seeds can grow
Ever since a student, I've been coming to Roppongi to have fun. After Roppongi Hills and Tokyo Midtown were built, the place changed considerably, both in good and bad ways. I started my career as an artist, and from an artist's point of view, I think that with the National Art Center, Tokyo and Roppongi Art Night, the whole of Roppongi has become an area where it is easier to make artistic expressions. On the other hand though, there seem to be many things that have been lost.
Today, if someone were to ask, "Where shall we go to have fun?" there is no one place that everyone would suggest. There is no establishment where we can be sure to meet certain people. We don't have a special place like Chianti anymore; Chianti was a place you visited when you were dressed right and in the right mood and you felt up to it.
Roppongi is a place with restaurants like Chianti where all kinds of culture were born and are continuing to be born. Well, maybe it's not quite correct to say that culture is born here; it's more of an incubating place where tiny seeds for culture later grow into big things.
Using Roppongi Art Night as practice for the Olympics
To be honest, I neither like nor dislike Roppongi; it's been a place I come to when I had something to do. But now that I've come to be involved with Roppongi Art Night, I'm beginning to see that Roppongi has a lot of interesting things. These days, I often walk by myself in the streets and think "Hey, there's a parking lot here!" or "I wonder if the closing time for the garden at the back of Tokyo Midtown can be extended." I might also become imaginative and think, "Maybe it might not be possible to totally ban traffic at the Roppongi intersection, but perhaps the traffic could be stopped for just a little while" or "I wonder if we could link all the visuals in Roppongi and do something with them."
I'm hoping that Roppongi Art Night will become a street-linked event which everyone can participate in. That's because - and this is something that many other people are saying as well - the Tokyo Olympics in 2020 is on my mind. I feel that the Roppongi Art Night this year will be the first round of practice for the Olympics. I'm sure that the organizers of Roppongi Art Night and people at the Tokyo metropolitan government are currently taking steps with an eye to what can be done here in Tokyo ahead of the Olympics. I myself am wondering how we can attract people to participate in events; I want to experiment and see how people, including myself, can connect more with others.
I'm no longer interested in pursuing my own ideals, or in holding events similar to those overseas; all I'm thinking about now is what can realistically be done here. Of course there are restrictions such as the traffic laws and landscape regulations, and the people at the various facilities have their own thoughts. My role is to get people involved and make it an event for everyone in Roppongi. I strongly feel that we need to create a place where people can connect with each other in a genuine way.