49 Naomi Hirabayashi(Art Director)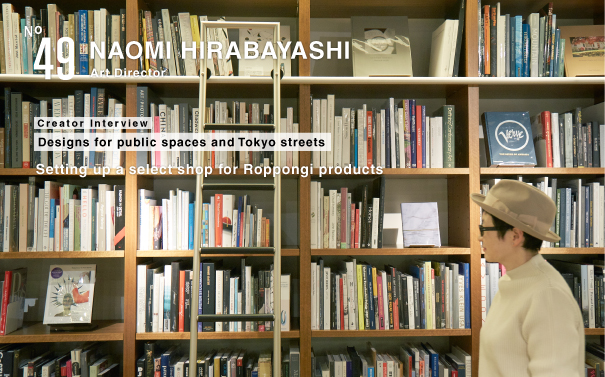 Naomi Hirabayashi works in a wide range of genres; she has been art director for Sonya Park's select shop ART&SCIENCE, the magazine GINZA, NTT Docomo, and more recently for la kagu, a commercial facility in Tokyo's Kagurazaka. She has also designed the packages for Japan Tobacco's "HOPE" cigarettes and the CD jackets for musicians such as Dreams Come True and Utada Hikaru. The photos for this article were taken at BIBLIOPHILE which is Hirabayashi's favorite bookshop. Hirabayashi told us that aside from going to work, she rarely leaves her house. Nonetheless she said there is a certain place she has recently become fascinated with.
photo_tsukao / text_kentaro inoue
My fascination with Berlin
I'm currently fascinated with Berlin in Germany. The city seems to have an element that cannot be found in either London or Paris. I went to Berlin many times this year. When something new is being built in an undeveloped area, it has a very interesting atmosphere - like New York's Soho in the old days. Berlin still has that atmosphere. There are shops that are not famous but individualistic, and there are people who are not well known but extremely nerdy with incredible knowledge in certain areas such as electricity. (laughs) I also think Berlin has an environment that is generally geared toward good living.
My fascination with Berlin might be due to my love of German designs. In Japan, you can get nice, standard things in the areas of clothing and food, but it's difficult to get hold of nice, standard utensils and parts and pieces for the home. People are very enthusiastic about interior decoration now and a lot of effort is being made in designs, but when it comes to the tiny, subtle details, most people seem to give up. So we have things like awfully designed light switches and weird-looking remote controls on the walls.
I can't stand those things, and so when I renovated my house, I spent an enormous amount of energy looking for each of the parts I wanted. For example, I wished to have the same tiles used in the New York subway, so I contacted a tile factory in Sri Lanka and asked to let me buy tiles from them. And I hated the large rounded gothic font for the words "zaitaku" (at home) printed on the SECOM machines, so I did some research and found that there were machines without the printed words made for foreigners. I feel that the knowledge I've gained through looking for things by myself helps me a great deal when thinking about design.
The desire to design for public spaces
When I go to Berlin and other countries, I hardly ever search in the stores for products. Instead I visit the airports and city offices; I do research like finding out the type of toilet brushes being used. I go to public places because they are where many of the interesting designs are. This brings me to the topic of what designs are about. For me, designs are about things which are actually used by people and are part of everyday life. It's definitely not about things that are gorgeously lovely.
I find it difficult to describe the kind of designs that appeal to me. Some people use the expression "anonymous designs" but that doesn't seem to explain enough. (laughs) I like products which look so natural that we forget that there was a person who actually designed them. Those are the kind of things I wish to design.
In Japan, I like going to the Workman stores and home centers which sell functional, simple items that are inexpensive and durable. In such stores I might see a nail box with illustrations and minimum information like nail size, and it will give me a hint for my own designs.
Designs that can be understood at a glance
A long time ago, when I was employed at a company, I worked for about a year in London. Of course I had to pay taxes since I lived there. When the tax papers arrived, I was surprised to see that the format of the papers was of such clean design. Being tax papers, they were meant for all generations, young and old. Only one font and only one color were used, and only the places that needed to stand out were in bold or in italic. It was so simple but so proper.
In Japan though, if you were to get a printed notification on pensions for example, it would usually be in color, and in very big letters and it would be as if they wanted to get your attention on everything. And for some reason, the fonts are usually roundish, and there are nearly always illustrations of mascots. .. you get the feeling that they are making fun of adults.
The Japanese way of designing printed matter is something I discussed with Kaoru Kasai-san. I truly respect Kasai-san and wish he could be in charge of doing all the designs for the Tokyo Olympics. (laughs) Kasai-san told me that in Europe, they have timetables that can be understood at a glance; you don't need to know the language to comprehend them. He was saying that's how designs should be.