39 Tokujin Yoshioka (Designer)
In Roppongi's Keyakizaka-dori is the "Chair that disappears in the rain" created by Tokujin Yoshioka, a designer who is active worldwide. His works have been displayed at the "Second Nature" exhibition at 21_21 DESIGN SIGHT and the "Sensing Nature" exhibition at Mori Art Museum. Yoshioka's involvement with Roppongi began more than 10 years ago; he said he has always hoped this area would become "a place closest to the future." We asked him about his views on Roppongi and on creations of the future.
photo_tsukao / text_kentaro inoue
A project to mark a new beginning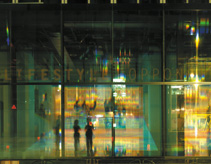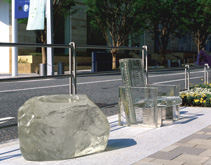 The first large project in Roppongi I was engaged in was the Roppongi Think Zone which was set up in 2001 as a promotion project for Roppongi Hills; I was in charge of designing the building and the interior. In the 1990s, after the Berlin Wall was broken down in Germany, and redevelopment began at the center of the city, many corporations and architects set up places that were like information centers. The Roppongi Think Zone was aimed at doing something hopefully bigger than that - it was a project to create a place for public presentation in Roppongi.
I myself had just become independent in 2000 and had set up my own office, and the project marked the start of a new beginning for me. It was my first time to design a whole building. I was also given many other opportunities such as designing the street furniture "Chair that disappears in the rain" on Keyakizaka-dori.
The street furniture project took a very long time to complete because we needed to get permission to install them in public places. It is rare that glass is chosen to make objects that many people will touch, but I thought glass was suitable because it lasts almost forever and doesn't decay. I thought of making an object that could be easily remembered; I wanted people to use it when waiting for each other so they could say, "I'll be standing near that glass chair." When I go to Roppongi, I still greet the "Chair that disappears in the rain". I say "How are you?" (laughs)
Roppongi, a place closest to the future
In the beginning, I did not imagine at all that within only 10 or so years, Roppongi would change so much. But I do remember listening to the people at Mori Building who were developing Roppongi Hills; I listened to their future vision of Roppongi and I vaguely thought, "It would be nice if this place could become a place closest to the future."
By 'future', I don't mean the technological future. I was thinking of a comfortable place for people where one could also get a sense of the future. People work, have meals, and spend their lives here, so it's important to consider people's lifestyles.
What was initially most surprising to me was the plan to open an art museum at the top of a building. There were questions about taking up the artworks to such a height, and about the flow of visitors. These matters were discussed, but the museum turned out to be a success, drawing a lot of people. I don't think there is any other museum in the world that is so high in the air.
The art museum helped make Roppongi a cultural place; when Tokyo Midtown was later completed, there was a synergetic effect, and the area has been clearly invigorated. Now, in addition to design and art, Roppongi has much to offer, including cuisine, and it has become an interesting area, providing everything for all kinds of lifestyles.
Towns that offer unique experiences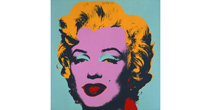 As development in a town proceeds, there is a tendency for the same kind of streets and buildings to be built. When a new place is developed, people flock to it. Then a while later, they all go to another new place - that phenomenon is repeated. To differentiate itself, a town needs to offer a unique experience that cannot be had elsewhere.
The success of Mori Art Museum is an example of that. There is also the 21_21 DESIGN SIGHT in Tokyo Midtown, and all kinds of events are held such as the Design Touch in the autumn. Roppongi has become an area of design and art; in other words, it has become a cultural area.
In the past, towns in Japan were developed and transformed with the aim of becoming urban. But now people are not interested in towns unless they reflect the characteristics of each region. It's not just towns that need to be unique; countries and regions also need to reflect their own character. The places people find appealing and interesting are those which are distinctive, and clearly different.