36 Oki Sato (Designer)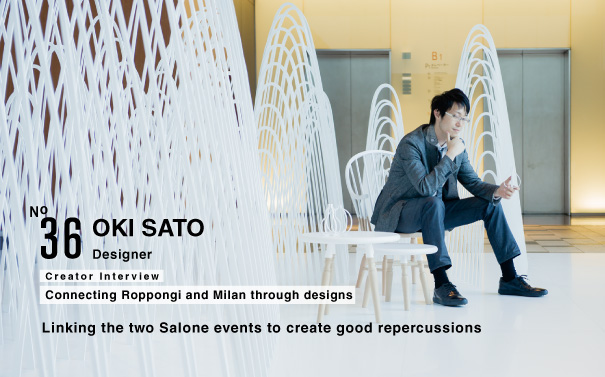 The annual autumn event "Tokyo Midtown DESIGN TOUCH" was held again this year. During the first half of the event period, the "Salone in Roppongi" was held, featuring an installation by the Japanese design unit "nendo" led by Oki Sato. The installation was the most talked-about work at the Milano Salone (Salone Internazionale del Mobile) this year. We asked Sato about his thoughts on Milano Salone, the things the Roppongi and Milan have in common, and the future of "Salone in Roppongi."
photo_hiroshi kiyonaga & ryumon kagioka / text_kentaro inoue
Growing in tandem with Roppongi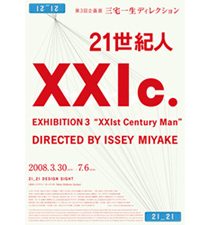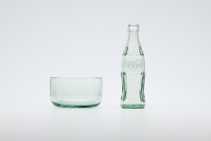 Ten years have passed since Roppongi Hills opened; it was 11 years ago in 2002 that we set up the "nendo" design office, so I feel as if our activities and the development of this area has been in tandem, and that we've grown together.
We worked with Issey Miayake-san in 2008 for the "XX1st Century Man" exhibition at 21_21 DESIGN SIGHT which was a really valuable experience for us. Last year, at DESIGNTIDE, we set up an installation for Coca-Cola Bottleware. Every year, we are given an opportunity in one way or another to participate in an event at Roppongi, and I feel that this area has sort of given us our turning point.
Roppongi has large commercial facilities and art museums, and it's also an area with a night life. I have an image of it as being a place where design and art and all kinds of elements are jumbled together. It's a place where information comes fastest, and it is the most energetic place. You can feel a strong powerful intent to convey new things. I personally believe that Roppongi is the most chaotic area in Japan.
Keeping to a routine in everyday life
I'm deeply involved with Roppongi through work, but in my private life, I don't come to Roppongi that much, to be honest. On my days off, I stay at home and don't go out. I make many business trips, so when I'm in Tokyo, I want to avoid moving about as much as possible. (laughs)
Basically, I like doing the same things every day. At nendo, we're engaged in all kinds of genres - architecture, interiors, products, graphics and so on. My work involves making irregular activities, so in my everyday life, I try to keep to a routine as much as I can.
So for lunch, I go to the same soba restaurant and have the same meal, and after that I go to the same Starbucks shop and have the same coffee. Anything I can make a routine of, I do. It doesn't take an effort to do this; it's simply the easiest way for me. When you have a uniform, you don't need to decide what you will wear each day. It's like that.
The similarities between Roppongi and Milan
Perhaps in a sense, Roppongi has too many irregularities and is too fast-changing for me. We also have an office in Milan and I go there every month; I sometimes feel that the stimulation in Roppongi is similar to the kind I get in Milan.
Paris, London, Tokyo - each city has its different personality. In Roppongi, there is the same glistening atmosphere as in Milan - a very bright mood. And it's in this atmosphere that the latest designs and trends are born and transmitted. Roppongi seems to be a place where people can communicate with each other through design and art.
Milan is currently undergoing development in preparation for the Expo in 2015, and huge buildings are being built one after another. Every time I visit, I find that the streets have changed quite a lot, and that's kind of like Roppongi. When our overseas clients come to Tokyo, many say they want to visit Roppongi. I suppose that's because it's international, while at the same time it has its own distinctive local characteristics; the place is overflowing with energy, and it keeps transforming itself and conveying something.