21 Katsuhiko Hibino (Artist)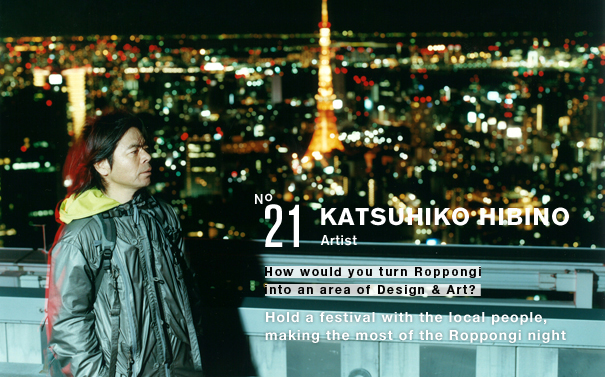 "Roppongi Art Night" is an all-night art festival held in the Roppongi area on the weekend of March 23rd and 24th. The event is getting bigger in size each year, and Katsuhiko Hibino, who is currently its artistic director, has big hopes for its future. "Roppongi Art Night"is a one night event and yet it is much more than that. By holding this festival together with the local people, Hibino is hoping to change Roppongi into area of design and art.
photo_taro hirano / text_tami okano / edit_rhino
The night defines Roppongi
The first time I heard that the name of the event is "Roppongi Art Night", I thought, that makes sense. I've been involved with regional art projects for about 10 years now.
The Echigo-Tsumari Art Triennale which started in Niigata in 2000 takes place not in the art museums but on the land, utilizing the things already in the region;the artists absorb the power of the land and express that in their works. The Setouchi Triennale which is held on the Setouchi islands such as Naoshima, also utilizes what is already in the locale - namely using the islands themselves in the Seto Inland Sea as the backdrop.
In the past, there were regions that were called "inaka" (countryside), but these days, the people there don't let you call these places "inaka": they feel that they are living in places that have their own advantages, and more people seem to be feeling the same way. Niigata has the rice terraces and the Setouchi has the islands, so what does Tokyo have? What defines Roppongi? Well, the night defines Roppongi. That's why I thought the name "Art Night" makesa lot of sense, and I thought to myself, hey, this sounds interesting.
Creating relationships with the local people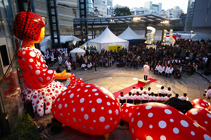 I didn't think of Tokyo as being a region before, but about five or six years ago, when the construction on the (Tokyo) Sky Tree began, there was a movement among artists and students to start activities in the downtown areas. It was around that time that people began talking about the different districts in Tokyo such as Sumida ward and Taito ward, instead of talking about Tokyo as a whole. It occurred to me then that Tokyo is also a region. So I thought of holding the "Asatte Asagao (day after tomorrow Morning Glory) project" in "3331 Arts Chiyoda"; it's a long ongoing project of mine, but until then I'd never implemented it in Tokyo. When the project actually got underway, I found that elderly men and women of the regions would willingly come to look after the Morning Glory flowers. And it came home to me that Tokyo has residents too, and that naturally, there are different regions and communities within Tokyo.
In holding the Roppongi Art Night, I think it's important to keep in mind that the Roppongi's appeal is in its night. Another thing I'm focusing on is creating relationships with the local people. I really want to work together with the people of the Roppongi area in holding this event. I've been talking to people of the Roppongi shopping districts, telling them that while the Art Night is for only one night, the process of getting together and preparing for the event is itself an art.
Roppongi Art Night - a spring festival and a yearlong event
The Roppongi Art Night is an event that takes place by working in unison with the residents; I want it to be a "matsuri" festival that is such fun that when it ends, people are already looking forward to holding next year's festival. Festivals are about people preparing for the big day, and when it is over, preparations immediately begin for the following year's event. An event the residents are engaged in for the whole year - that's what I want Roppongi Art Night to become.
I think that making it a year-long event would also be meaningful for the artists. The Roppongi Art Night will mark its fourth year this year; if we continue the event, the number of artists who have participated will continue to accumulate. I want this to be a regular event so that these artists will always remember that it is on the weekend of March and know that if they come here, they will be able to meet their buddies.
In the summer, musicians hold festivals. All kinds of artists get on stage and they are glad to meet each other and they talk of coming together again next year. The summer festival is something they look forward to. I envy them, to be honest. (laughs) Art needs a festival too - a festival not just for exhibiting works but for people to come together of their own accord. It should be a place where bonds are formed. That's what Roppongi Art Night is about.