14 Masamichi Katayama (Interior Designer)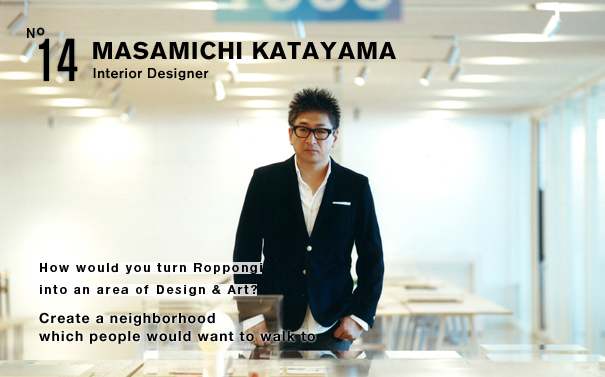 Masamichi Katayama works worldwide as an interior designer, doing 90% of his work overseas. When we interviewed him, he had just returned from Singapore a day earlier. We were rather concerned that holding an interview in the morning would be a tough schedule for Katayama, but when we met him, he told us that he had already attended one meeting. Katayama also said that he is shifting his lifestyle so that his main activities are concentrated in the mornings than in the evenings. During the latter half of the interview, he made a surprising proposal of turning Roppongi into a "morning town." Katayama is currently professor at the Musashino Art University's department of Industrial, Interior and Craft Design. The photos were taken at Tokyo Midtown's Design Hub where the Musashino Art University and Design exhibition is currently being held.
photo_taro hirano / text_tami okano / edit_rhino
There used to be tremendous energy in Roppongi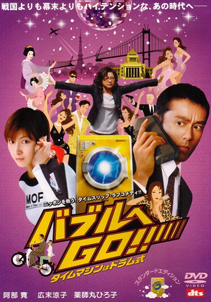 Copyright (C) Toho Co.,Ltd. All Rights Reserved.
When I came to Tokyo at the age of 21, it was the heyday of the bubble economy. At night, the streets in Roppongi were as bright as in the daytime, brimming with people. It was like a Rio carnival. A film came out a few years ago called "Bubble Fiction: Boom or Bust" where a person stops a taxi by waving a 10,000 yen note. There really were people who did that in those days. (laughs) My friends and I didn't have much money so we didn't reap any benefits (from the bubble) but the image of Roppongi initially imprinted on my mind was that of a place with tremendous energy.
Then the bubble burst, and the crowds stopped coming to Ropponigi, and facilities such as the Roppongi Hills, Tokyo Midtown and the National Art Center, Tokyo were built. The image of Roppongi changed from a place of pleasure to a sophisticated place for grownups, and my own impression of the place changed too. For me, it's now a town where I come for work-related purposes. Uniqlo's Tokyo headquarters are in Tokyo Midtown, and since I'm involved with interior designing of the Uniqlo shops, I come here once a week for meetings. Another connection to Roppongi is the Musashino Art University Design Lounge here at the Design Hub.
But I just come here to get something done, and when it's over, I leave; it's such a pity that I only have that kind of involvement with Roppongi. I would like to enjoy the area in a more personal way, and I have some ideas on how this can be done.
A town where people can take a stroll
The first thing I would do is to make Roppongi a place that people would want to take a stroll. People probably have a strong image of Roppongi as being a place where traffic rushes through the big roads like Gaien-Higashi-dori and Roppongi-dori. But Aoyama Cemetery is quite nearby, and it's possible to walk to Roppongi from Aoyama. Roppongi and the surrounding areas need more perky "tiny dots" - more small shops owned by young promising people who would breathe new life into the town. If the streets could be made more interesting for pedestrians, more people will want to walk to Roppongi instead of getting here by car.
So I envision streets where people can just stroll about. I would create a neighborhood by inviting young people who don't have the money but who are doing interesting things. Roppongi already has famous brand shops set up by big corporations in properly planned zones. It already has the properly planned and exact things, so it now needs more organic, undefined things. For example, if some young people hoping to make a career in fashion opened three or four clothing shops, a network of "tiny dots" would be made, and a neighborhood would naturally be created.
I also think it would be good if there were more casual cafes in Roppongi; cafes that are too flowery can be intimidating. And if there were more casual places, the establishments that are grand would shine even more brightly.
Sow the seeds and the area will begin to grow
Towns tend to end up looking very similar to each other when you plan too much. Traveling to Asia and Europe and America these days, I often get the feeling that each country and each town has similar scenery. Life has become more convenient this way, but I'm not sure that this is a good thing. I think we should try to create places that are more specific to the locale; we should create attractive places that can only be found in Roppongi or that can only be found in Japan. We should invest in the young people who are trying to do interesting things in Roppongi. Otherwise people will not be motivated to travel all the way to Japan and come to this area.
Since I'm an interior designer, I do my work by first looking at the visible and tangible things, and then I try to connect them to the bigger picture. So if I were to develop a town, I would take a step that would have a far-reaching chain reaction - like pushing down a line of dominos. I talked earlier about transforming a town through "tiny dots". In my job of creating spaces, I know from personal experience that such small shops can quickly change the face of a town. If you sow the seeds, a town will change like a plant growing into a tree. After all, that is how a town normally develops.