11 Toshiyuki Inoko (CEO of teamLab Inc.)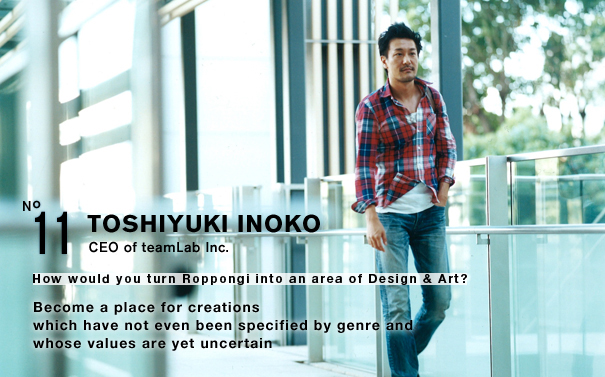 Toshiyuki Inoko did not show up at the appointed time on the day of the interview. We asked him what had happened when he finally arrived, and he told us he had been looking everywhere for the interview room. He added that he always gets lost in Roppongi buildings. Inoko is the standard-bearer of next generation digital art. In 2001, while a student at the University of Tokyo, Inoko set up teamLab Inc., a group of ultra-technologists, with the aim to rejuvenate Japan. He is continuing to take up the challenge of creating new expressions in the digital domain. Inoko is constantly giving thought to the values of Japanese culture and the things that have impact on the post-Internet society. We asked him his views on the future of Roppongi.
photo_taro hirano / text_tami okano / edit_rhino
Roppongi seen from Japan or seen from the world?
When you say "an area of design and art", you have to consider whether you want Japan to look at Roppongi as such an area, or whether you want to have the whole world look at Roppongi that way. There's a huge difference between the two. If you are aiming to have Roppongi become an area of design and art within Japan, I think that's already been achieved to a certain extent, and the recognition will become even stronger if you go on with what you are doing now. If, on the other hand, you are aiming for worldwide recognition, then I don't think that the rest of the world will ever think of Roppongi as an area of design and art. To be more specific, Roppongi will never get that kind of recognition if things continue as they are.
I assume that you are saying "design and art" in Roppongi in the same context as design and art in New York. Well, if you mean the same kind design and art as in New York, you can't win. New York has been a city of design and art for ages. The representative artworks in Roppongi are also works that would also be highly appreciated in New York. They are completed pieces that are appreciated under a set of values established in the 20th century, and it is such works that are being chosen and collected in Roppongi. But if you keep doing that, I feel that the world will never look at Roppongi as an area of design and art.
Becoming a place to show new culture
If the aim is to have Roppongi become known in the world for design and art, you should think of becoming a place that accepts new culture - new culture whose values have not yet been determined, but which undoubtedly will have value in the future. Its genre may be uncertain and it may not yet have a proper place to be shown.
For example, a lot of people are looking at things on the Internet and getting excited about them, but sometimes there are things which people cannot quite explain. Such things will probably never be exhibited at the Biennale di Venezia (international contemporary art exhibition) or at the Milano Salone (international furniture fair and the world's largest design event). But in reality, many people are interested in the fuzzy things that can't be specifically named yet, and I feel that these are the creations of the future. If Roppongi becomes a place to show such works, I think that in 10 or 20 years, it will be able to become a symbolic "creative city."
Venice, Milan, Linz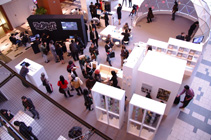 Biennale di Venezia has been showing contemporary art for more than 100 years, and Milano Salone has been showing product designs for more than 50 years. Even the media event Ars Electronica held in Linz, Austria has a 30-year history.
When Ars Electronica started in 1979, it must have been a niche genre. I wonder if the term "media art" existed then. In those times, the desktop calculator was about the only computer you would commonly see. Incorporating technology in art was not the mainstream, and yet it proved to be the future. That's why Ars Electronica became a symbolic event for this genre, and the town also became a symbolic town. There's even talk of having cities like Yokohama and Osaka become "creative cities" by hosting Ars Electronica. But we won't be able to win by hosting that event today. Well, that goes without saying.