01 Manabu Mizuno (Art Director)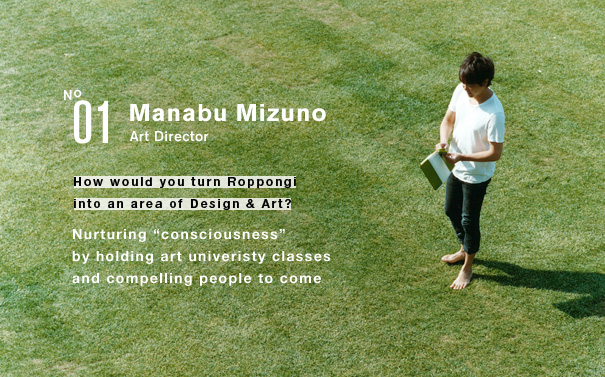 Manabu Mizuno is a creative director who has been involved in many talked-about projects, from the design of the logo of the Ministry of Agriculture, Forestry and Fisheries to "iD" branding for NTT docomo, the art direction of adidas and "Single Collection Vol.2" by Hikaru Utada. He has also designed the campaign posters for Tokyo Midtown. The garden at Tokyo Midtown, where the wind passes refreshingly through, is one of Mizuno's favorite spots. On a day in May when the weather was like early summer, Mizuno sat in the garden and told us his thoughts on the future of Roppongi as an area of design and art.
photo_taro hirano / text_hisashi ikai & tami okano / edit_rhino
It was a bit hard to like Roppongi when I was young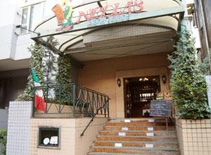 Filled with foreigners, Roppongi is a bustling town, day and night. The image we have today of Roppongi as an entertainment district is said to have been started by Nicola's Pizza House (established in 1954) which is known for introducing the pizza to Japan. It may seem as if the appearance of this area has been changing constantly, but it was only after Nicola's Pizza that all kinds of foreigners began to gather, and it has taken nearly 60 years after the war for Roppongi to become what it is now.
I was raised in Chigasaki, and when I was young, it was a bit hard to like the busy, run-down image of Roppongi, and the way it seemed to be engulfed by trends, so I didn't come here that much. Recently though, I sometimes visit to watch movies and browse the bookstores, and take my children to the park on my days off.
Transforming from a place for socializing
"A place for sociliazing" and "a place where people gather" might sound similar, but mean slightly different things. "A place for sociliazing" suggests a place where some sort of event is held and people are drinking and making a noise. " A place where people gather" seems to imply a place where people come together even if they have nothing particular to do, as if they have been drawn by the sunlight. Roppongi used to be place where the sole purpose was to socialize. You had to have some kind of reason to come here.
Today though, there is culture and entetaiment in the form of movie theaters and art museums, and in places like Tokyo Midtown, there are pleasant, soothing areas surrounded by lawns and greenery. With an increase in things that are convenient and enriching for people's lives, I think Roppongi is becoming more attractive as "a place where people gather".
Roppongi is changing, like New York
Rudolph Giuliani, as mayor of New York City, took the initiative of stamping out crime in New York and making large-scale redevelopments. This helped restore safety and order to the city, and the image of New York was greatly changed. People have now come together in the nice places, and the presence of these peole are attracting a flow of more people. I think Chigasaki, where I was born, is appealing not because of any events that are held, but because there is the sea, and a good environment.
The big developments in Roppongi gave birth to Roppongi Hills, the National Art Center, Tokyo, and Tokyo Midtown, and these facilities have brought in a breath of fresh air to the area. The reasons for people coming to Roppongi have inevitably changed a lot.