94 Junya Ishigami(Architect)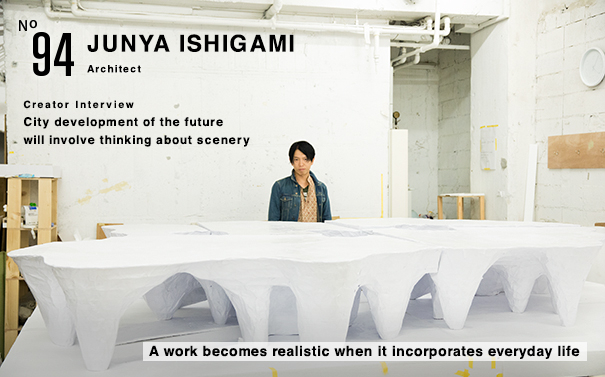 Junya Ishigami is an architect who creates architecture in unlikely places, creating shapes and spaces that look peculiar, and yet are most suited to each region and brings out its charm. The exhibition "Junya Ishigami, Freeing Architecture" being held in Paris at the Fondation Cartier pour l'art contemporain has won high acclaim, and a decision was recently made to extend the exhibition to September. We asked Ishigami about his vision of future cities, and also about what is needed for Roppongi to become an area of art and design.
update_2018.7.4 / photo_mariko tagashira / text_nana okamoto
An office that blends in with the atmosphere of Roppongi
My works are currently being shown at Mori Art Museum's "Japan in Architecture: Genealogies of Its Transformation" exhibition, and my office is in Roppongi, so I have ties to Roppongi. I moved my office to Roppongi because there happened to be a building that filled all my requirements. You could say it is by coincidence that I came here. By making Roppongi my headquarters, I made some unexpected discoveries. The landscape is more sloped than I imagined, there is more greenery than I thought, and there are remnants of the area structure of the old days. It's a place that is fun to walk around. Also, there are many people from abroad at my office, and because Roppongi is a place of different races and cultures, we seem to be blending in.
I think Roppongi would have a brighter atmosphere if it didn't have the elevated Tokyo Metropolitan Expressway. When you hear the name Roppongi, the sight of the intersection with "Roppongi" written on it comes to mind, doesn't it? Maybe it would be difficult to implement, but if we could remove that elevated expressway, the sunlight would be unobstructed, and Roppongi will become a sun-filled place with a dramatically different atmosphere. However, when I'm speeding by in a car on the expressway, it feels good. (laughs)
Utilizing Japan's landscape-based city structures
I think the city structure of Tokyo differs from other cities in that its history is connected to its land features. For example, the area around Roppongi, being at the top of a hill, was originally a residential area with grand old houses on spacious compounds. Meanwhile, the valley areas have traditionally been the commercial, shopping districts; the town structure here has not changed since the Edo era. On the other hand, in Europe, in particular, city and building structures are not related to the land features. A structure of a city is developed through city blocks and is dependent on how the buildings are lined up. The difference between cities in Japan and Europe is that if all the buildings in a European city were to disappear, the atmosphere of the city itself would almost all be gone, but in Japan, because the land features are the same, the atmosphere of the city would be retained even if the buildings were changed.
While the original landscape may remain, it's necessary for a city to update itself in line with the changes in people's values. I think a city structure that takes good advantage of a landscape is one where the history can be felt in the scenery. So a city needs to be renewed by taking into consideration the scale of the original land features. For example, there are many slopes in Tokyo, and in the past when there were no big buildings, these slopes were like monuments or landmarks of the region; that's why slopes that existed from long ago have names that speak of the atmosphere of the place. There are slopes called Kurayami-zaka (Darkness slope), Keyaki-zaka (Japanese Zelkova tree slope) and Nadare-zaka (Tilting slope). Tokyo is probably the only city in the world which has so many slopes with names.
I think it's important, particularly in Tokyo, to think about an area along with the memories of sceneries. Many old buildings have been lost due to air raids and earthquakes, but I think that by preserving the landscape, we can maintain the atmosphere that remains in an area. That's something we need to consider when doing big developments; we also need to get the scale right, and properly analyze the land features.
Continuously create cities through buildings that are connected to the region
For me, it's important to think about living environments for people without making clear definitions about or drawing boundaries between developing cities, constructing buildings, and creating landscapes. Instead of starting with city planning, then forming the land in line with the plan, and then designing buildings for the newly-formed land features, I think it's better to come up with methods that are free from established hierarchal systems and procedures.
For example, we could first make the buildings, and then later change the land features a little to improve the environment. That way, discoveries are made which would not have been made with conventional city planning, and which can lead to slight revisions. Then we could make more buildings based on new city planning and the environment. And we could keep repeating that in a speedy way. Each part of the city develops differently and is intricately linked to the other parts, and the city as a whole grows spontaneously. Of course, this would be considerably difficult under current regulations, but I think it's necessary to have flexibility and to maintain the environment of a place at its many levels, and at the same time, to bring about change.
Technology is evolving, and perhaps in the near future, a new development method will be born where the system can be changed each time, processing all the complicated data. The scale of development projects is getting bigger and projects are being more speedily undertaken now; what is necessary for future development is the ability to deeply analyze the huge data concerning a certain place and to give it contemporary value. Sometimes, I feel that with simply large-scale and high-speed development methods, massive, hollow spaces with very little substance are being created in the middle of cities. That approach seems to belong to the past - it seems very 20th century to me. I think that in the future, city development will not be about erasing the history of a place and changing it drastically, but about transcending the past and the future, and linking the various elements with data and the environment, giving the place a complex connectivity.