93 Kengo Kito(Contemporary Artist)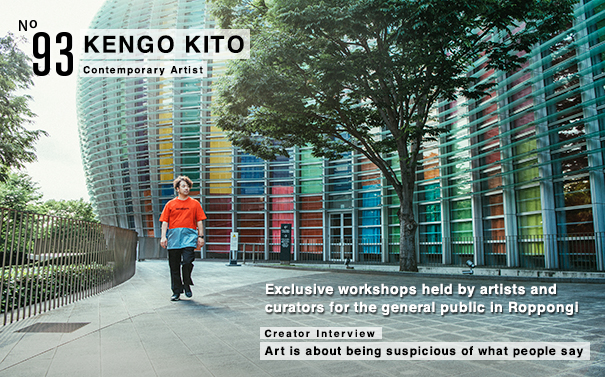 Contemporary artist Kengo Kito has released a wide range of paintings, installations and three-dimensional art both at home and abroad. At Roppongi Art Night 2018, which was held May 26-27, Kito showed works that expressed fleeting and fantastical dreams. Aside from Roppongi Art Night, Kito has participated twice in exhibitions held in Roppongi. He told us about his perspectives as an artist on the current state of Roppongi and art, and the possibilities they have.
update_2018.5.30 / photo_tada(Yukai) / text_nanae mizushima
Deeper learning of art through small-group dialogues
We live in times where digital technology and handcraft can be linked with art. Art will probably increasingly expand in the future, and I think that is interesting. In Europe, the word "art" essentially means "skills" and not "beauty", but in Japan, there is the tradition of seeking beauty in art. Skills can be taught at school, but beauty cannot be taught. In order to delve further into art, perhaps it might be a good idea to hold private workshops or lectures in Roppongi, bringing together artists, curators and art viewers. Opportunities could be provided for artists and curators to talk at length to art viewers on a one-to-one basis or a one-to-two basis; they could begin by answering the question of "What is art?" and go on to explain about the people who sell art, who buy art and the process of buying an expensive piece of artwork. Nowadays, many talk events and workshops are held which are targeted for fairly large groups of attendees, but I feel that by offering events for large numbers, there are people who actually lose interest in attending. I think that events for small groups will enable people to experience art from a different angle in a deeper way.
The day when the streets of Roppongi became empty
I think Roppongi is a compact place. It is dotted all over with art museums, art galleries and cultural facilities that are representative of Tokyo: the Mori Art Museum, the National Art Center, Tokyo, Suntory Museum of Art, 21_21 DESIGH SIGHT, Taka Ishii Gallery and Tomio Koyama Gallery. There are also commercial facilities like Tokyo Midtown and Roppongi Hills; you can visit each one of these buildings while taking a walk, and I find the scale of the place attractive.
I think the first time I came to Roppongi was in 2003 when the Mori Art Museum opened and I went to its exhibition. Later, my ties with Roppongi were born when I participated as an artist in the "Roppongi Crossing 2007: Future Beats in Japanese Contemporary Art" exhibition at the Mori Art Museum and the "Artist File 2011: NACT Annual Show of Contemporary Art" at the National Art Center, Tokyo.
I clearly remember the day when I transported my work for the "Artist File 2011: NACT Annual Show of Contemporary Art" exhibition. I went out to do shopping for the transport, and an earthquake occurred when I was on the underground railway platform. It was the Great East Japan Earthquake of March 11, 2011. The ground shook so hard that it was almost impossible to keep standing, and the people around me were in a panic. But I had to transport my work, and I stayed at the museum. The people in the streets gradually disappeared, and before I knew it, there was no one.
The streets of Roppongi became devoid of people. It was a sight I had never even imagined. It was an extraordinary sight in the midst of the everyday. It was almost like an illusion, or a dream, but what happened that day was real. Of course, the opening of the exhibition was postponed, and I went back to Berlin where I was living at that time. Even now, when I hear the word "Roppongi", I recall the sight of the empty Roppongi streets.