88 Kaoru Sugano(Creative Director)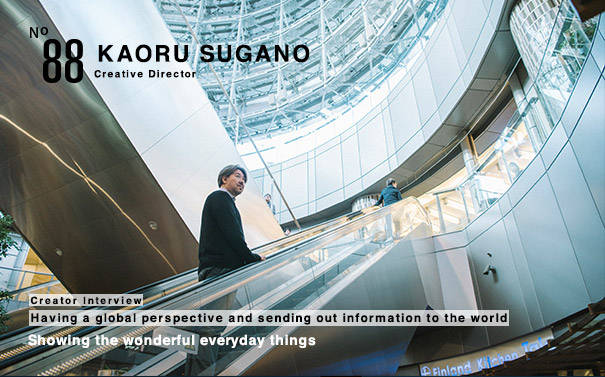 Kaoru Sugano, creative director at advertising agency Dentsu Lab Tokyo, combines the latest technology with innovative ideas to create stunning images that seem to come from another world; his works range from the exciting "flag handover ceremony for Tokyo 2020" at the 2016 Rio Olympics' closing ceremony to the music video collaborations with singer Björk. We were interested to know the views of Sugano-san who is based in the advertising world, on the significance of communicating ideas and information. In this interview, he gave us precious advice on enhancing the communicating power of Roppongi.
update_2018.1.10 / photo_tada(YUKAI) / text_ikuko hyodo
Roppongi is where I encountered music and culture
I'm from Tokyo's Suginami cityward but I spent the six years of junior high school and senior high school at Azabu Gakuen which is in Moto-Azabu. Shibuya was within walking distance of the school, and I used to go there with my friends to have fun. Sometimes we would go to Daikanyama to buy clothes. Roppongi was the nearest area to the school, but it seemed like a place for adults. Near Roppongi Hills Metro Hat, where the photo session was held today, there used to be a record shop called Roppongi Wave. A long time afterward, I learned that many of the people who worked there eventually became music critics and DJs. In the record shop you would find written explanations on music which were so detailed that were like liner notes - you could feel the passion of the people making the recommendations. I didn't have the money to buy a lot of CDs, but being a student, I had plenty of time, so I would often go there and get information on all kinds of music. So for me, Roppongi is a place where I encountered music-centered culture; it's where I got to know about the music that exists in the world.
The first club I nervously visited was near Roppongi. It was a club called Space Lab Yellow in Nishi-Azabu. In those days there was no Internet, and I would get information at the record shops, asking the sales assistants when I wanted to find out more. It was by walking about that I would get to know about things and I would exchange information with my friends. One day, I heard rumors that a musician I'd learnt about at Roppongi Wave was going to come to Yellow - the excitement I felt then is one of the first, unforgettable experiences I have of Roppongi.
As an adult, my ties with Roppongi have continued mostly due to the work I do; for example, when the "Sound of Honda/ Ayrton Senna 1989" was awarded the Grand Prize of the Entertainment Division at the 2013 Japan Media Arts Festival, we were given the opportunity to hold an exhibition at the National Art Center, Tokyo, and do talk shows and workshops. We also exhibited at the "All You Need is Love" exhibition at Mori Art Musuem which was held to mark the museum's 10th anniversary.
The realization of ideas if more important than their conception
I'm not an artist who shows works expressing the inner self. My job is to create adverts. There is always a project revolving around a client - someone who wants to send out a message and my role is to think of ways to smoothly get the message across. So if there is no given theme to work on and you were to ask me, "What do you want to do, Sugano-san?" there is actually nothing in particular that I myself strongly wish people to know about. What I do is to suggest the most effective methods for certain goals - my thinking is focused on clarifying what needs to be done to attain the goal. So if you were to ask me how to enhance Ropppongi's power in spreading information, I would ask what kind of place you want Roppongi as a whole to become - and if you are not clear about that, I would try to understand what your ideal might be. For me, advert communication is about thinking together with the client about what message should be sent for what purpose.
When I was younger, I was impressed by the work of the people older than myself; I was in awe with the way they came up with ideas. Now though, I feel that the ability to come up with ideas can be cultivated by practice and skill, as long as you are equipped with a strong will. It's only natural for creators to think of ideas; what is essentially more important is to turn the ideas into reality - to give them a place in the world. When someone makes something new, people might look at it and think, "I thought of something similar myself." But what's important is to be the first to make the idea a reality. You can only say you invented something when, with a high level of craftsmanship, you turn an idea into something that sees the light of day.
It's like that with technology. It's said that in the late 19th century, Bell, Gray and Edison invented the telephone at about the same time. When knowledge about a certain technology expands, you reach a point - if you are observant and constantly thinking about it - where you could turn an idea into reality. What is difficult is manifesting it into something of a high standard. When we are grown up, we come up with good ideas, but they don't easily become reality, do they? There is the matter of money and a lot of other obstacles. I think a creative director's job is to overcome those obstacles one by one - to keep it simple and resist the urge to overdo it, and to express, as much as possible, the initial idea in its purest form. I think that is what the job of a creative director is about.