81 Gerfried Stocker(Artistic Director Ars Electronica)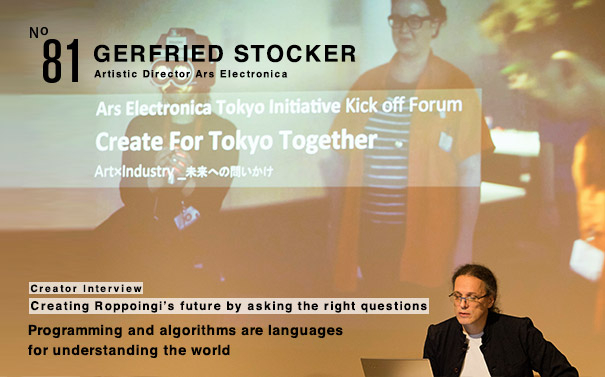 The text below is not a transcript but a translation of the interview held in Japanese.
The Ars Electronica festival started in 1979 in the Austrian city of Linz. It is an artistic festival where one can get a glimpse of the future, and draws strong attention from artists, researchers and corporations worldwide. We interviewed Gerfried Stocker, artistic director at Ars Electronica, the institute which holds the festival; he told us about his views on how art and technology could pave the way for Roppongi's future, and what kind of studies will be useful for the future.
update_2017.6.7 / photo_mariko tagashira / text_nanae mizushima
Tokyo - the world's most interesting place for social experimentation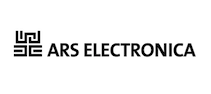 The first time I came to Tokyo was about 20 years ago. I've since visited every year for various reasons. For me, Tokyo is the most interesting place on earth for social experimentation. Compared to other global cities, it has an exceedingly high population density and it is remarkable - even when you think of Japan as a whole - how such large numbers of people are concentrated here in Tokyo. Every time I visit, I am excited by the fact that there is a harmonious co-existence between the city environment and the technology and activities of the people.
On the other hand, the city of Tokyo is overflowing with commercialism. This is an aspect which I personally regard as a problem. For instance, the commercialism is clearly visible when you stand at the intersection in front of Shibuya station. Almost all the surrounding buildings and shopping malls are covered with advertisements. When I see such scenery, I get the feeling that public space in Tokyo is being kept for marketing and advertising.
Developing towns by utilizing public space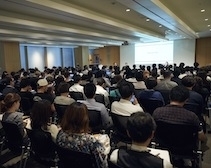 I think Tokyo people should give more thought to the use of public space in cities. It is by utilizing public space that the creativity and future of towns can be developed. Every year in early September, Ars Electronica festival is held for several days in Linz, Austria. I serve as a director of this festival and public space in the city such as open spaces, parks and shopping malls in the urban areas are used as the venues. Instead of packaging things and showing them in a museum, we place things in public spaces where the lives of the people are. By doing this, we can make art and technology more accessible to all kinds of people. It also leads to new encounters and dialogues.
Linz is a small city with a population of around 200,000. The good thing about undertaking activities in a small city like Linz is that compared to a bigger city, it is easier to get messages across to people. We live in times where artists are beginning to move dynamically in society; after making their works, artists are expected to interact with others instead of withdrawing into themselves.
I have seen many citizens become active players in developing the city of Linz through the festival. What is the situation in Tokyo? Perhaps you should move away from protected spaces, and make the whole city a stage. I think that is one way of unleashing the potential in Tokyo.