78 Tamotsu Aoki(Director of the National Art Center, Tokyo)×Yoichi Ochiai(Media Artist)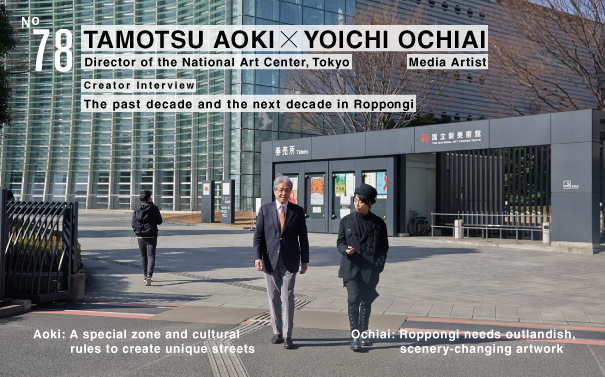 This year marks the 10th anniversary of the Roppongi's "art triangle" of art facilities. In January 2007 the National Art Center, Tokyo was launched, and in March of the same year, the Suntory Museum of Art and 21_21 DESIGN SIGHT were opened. To commemorate the 10th anniversary, we invited Tamotsu Aoki, director of the National Art Center and media artist Yoichi Ochiai - who was born and raised in Ropongi - to hold talks. Both know Roppongi well. They talked about the past and future of the area, as well as the role of art.
update_2017.3.1 / photo_tsukao / text_kentaro inoue
A strange area that does not belong to any culture
OchiaiTen years ago when Tokyo Midtown opened, I was 19. It makes me feel nostalgic. I've lived in Roppongi for 29 years now. The atmosphere of the area drastically changed in 2003 around the time Roppongi Hills opened. Roppongi suddenly became very well-known, getting a reputation of being the place where the rich people live.
AokiThe people known as the "Hills zoku" (the Hills tribe).
Ochiai I live in Azabudai which retains the atmosphere from the past, but people in general came to have a very different image of Roppongi. When Tokyo Midtown was built on the grounds of the former Defense Agency, the atmosphere of Roppongi changed yet again and the gap between reality and image seems to have become considerably smaller.
AokiThe area around the Defense Agency was so dark at night.
OchiaiThe Hinokicho Park was like a forest. There was a swamp-like pond where I often went fishing.
AokiI began coming to Ropppongi around the time the Almond shop opened, so perhaps I came here nearly half a century earlier than you did. (laughs) There used to be a Western-style cake shop called near A Lecomte near Meidi-ya store which I liked. I frequently went there to have tea and cake. There were many live houses that performed jazz, so I often came to Roppongi throughout the '70s and '80s.
OchiaiThe backstreets of Meidi-ya store and the backstreets of Don Quijote have a very similar atmosphere. They haven't undergone development, and for me, they are the natural scenery of Roppongi.
If you asked me which place I like best in the world, I would inevitably say Roppongi. The atmosphere is neither Western nor Asian. It doesn't belong to any culture so it's very weird. It's a truly unique place.
A good town is one that is easy to walk around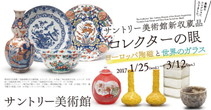 AokiFrom a cultural viewpoint, the establishment of facilities like the Suntory Museum of Art and 21_21 DESIGN SIGHT has further transformed the image of Roppongi. I've known Roppongi for many years, but I think the place has never been as nice as it is now.
The streets however, are the one thing that I find unattractive. Whether you are walking from the Roppongi intersection toward Iikura or to the National Art Center, the pedestrian streets are too narrow; there are so many people walking and you can't help bumping into each other. I've always thought that a good town is a town where people can easily walk around.
Ochiai It's also tiresome crossing over from the Roppongi Hills area to the Tokyo Midtown area. In Shibuya for example, there are no such divisions, and the shops are lined seamlessly from Omotesando to Shibuya. In Roppongi though, vacant spaces exist here and there.
AokiThe good thing about Roppongi is that the facilities, including the amusement areas, aren't grouped together in one place. There's a sense of movement, as if nothing ever becomes stagnant. That is precisely why we need streets that allow people to walk with ease. And I think the restaurants and cafes should spread out more onto the pavement. We could also do with a square where people can casually sit.
Before I came here, I used to teach at Aoyama Gakuin University; where the street from Kotto-dori to Shibuya has a wall on one side which becomes pitch-black in the evening. I kept earnestly telling people that the wall should be removed and open-air cafes should be set up, but no one was interested. (laughs) When streets have corners where people can spend their time comfortably, they attract people, and this truth applies to Roppongi too.
Making Roppongi the center of the Asian art market
OchiaiPersonally, I feel that Roppongi should assert itself as a place of international culture. Roppongi is such a distinctive area; it has remnants of both the bubble-era culture and foreign culture. Roppongi should take advantage of its culture and create a story of its own that is very different from other towns.
AokiA few years ago, I wrote a thesis for a magazine on creating a special cultural zone in Roppongi. I proposed creating an area of cultural activity by easing regulation in many areas including tax and encouraging the establishment of cultural facilities, art studios, and offices for anime and manga. Unfortunately, the proposal was not adopted as a policy, but I believe that within Tokyo, there is no other place but Roppongi that will be the fitting location for a 21st century-cultural center.
OchiaiI agree with you. Of all the places in Tokyo, Roppongi has an atmosphere that is most similar to New York. There are so many foreign investment banks and consultant firms in the high-rise buildings; a lot of monetary transaction is taking place, and there are people of many different races.
New York is the center of the world's art market. We might be late in joining the game, but if we were to make an art center in Asia, Roppongi would be the appropriate location. The drawback however, is that there are few art galleries here and not enough places for artists to show their works. And it's difficult for artists to have art studios because of the high rents.
AokiThat is why we need a special zone that will offer lower rates and give artists a certain range of freedom. I'm sure such measures would attract not only Japanese people, but people from abroad.