75 Kinya Tagawa(Design Engineer)×Dominick Chen(IT Architect)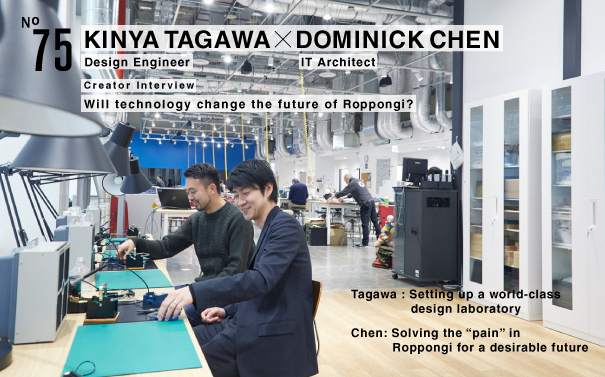 Instead of the interview we usually hold, we invited design engineer Kinya Tagawa and IT architect Dominick Chen for a discussion. Tagawa is head of design innovation firm Takram, and is a visiting professor at Britain's Royal College of Art. Chen is co-founder of Dividual which develops application software and is also the author of many books on the subject of infomatics. We asked the two to talk on the theme of Roppongi, technology and the future.
update_2017.1.4 / Photo_tsukao / text_kentaro inoue
The lack of air in Roppongi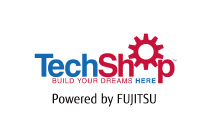 TagawaI wonder what the relationship between Roppongi and technology is. I don't think there's much of a connection. (laughs)
ChenTechnology is just a means to an end. The objective is more important. Maybe that is why it's better to think about what is currently lacking in Roppongi.
TagawaThe air, the air!
ChenRoppongi lacks air?
TagawaThat's right. There's not enough good air in Roppongi. Most of the streets of Roppongi were probably built in the '80s, and it was only after Roppongi Hills and Tokyo Midtown were built that the landscape came to have places with open air. The appearance of these tall buildings among the flat places seems to signify that Roppongi is finally leaving the 20th century behind. There's no deep meaning to my remark that Roppongi lacks air. It's just that when I come to Roppongi, I feel that I'm inhaling less air.
ChenIs that because you can't see the sky?
TagawaPerhaps. Maybe it's the presence of the Shuto Expressway. But here at TechShop Tokyo, the ceilings are high, and I feel that I'm properly breathing the air.
ChenI suppose it's essentially a matter of space. The other day, I went to Kiso Village which lies between the border of Gifu and Nagano. Toson Shimazaki wrote that in Kisoji, there is nothing but the mountains. And indeed, I found that there really is nothing there but the mountains and the fresh air.
TagawaThis has nothing to do with technology, but how about demolishing all the old streets and creating a big expanse of lawn- A huge, transparent roof standing about 20 stories high could be built to keep the rain out. That would certainly look very futuristic. (laughs)
ChenThat sounds cool.
TagawaThe future is defined by its contrast to the present. By contemplating a situation that is the opposite of the current situation - in this case, the lack of air - we can get a glimpse of what the future might look like. So the future of the countryside will be completely different from the future that will be shaped in Roppongi.
The need for human warmth rather than information
ChenHave you ever had the experience of going to the countryside and not wanting to come back to Tokyo- There's so much more information in Tokyo and the technology is advanced, but the ideal future that many people seem to have in mind is to work in Tokyo and relax in the countryside. But I feel it shouldn't really be like that.
Maybe consciously or unconsciously, people feel that the air is lacking. Perhaps it's an invisible stress people have. I wish we could provide a solution. It would probably help us create a desirable future.
TagawaEven though I find it stifling, I often come to Roppongi. It's not because I like the atmosphere. I come because there are interesting places. But then, if Roppongi came to have more air, certain people may no longer come here. (laughs)
ChenThis year I spent a lot of time in Ropppongi. I had the opportunity to participate in several Roppongi Art Night projects. I also served as juror for the Good Design Award and did the art direction for an exhibition at Design Hub.
At Roppongi Art Night, I did a talk show that went on until around 3 a.m. On that night, all kinds of people came to Roppongi, including foreigners. But seeing everyone come and then disappear, I wondered if people were really mingling with each other. It made me think we ought to do something about it. I thought that technology or something to do with programming might provide a solution.
The word "technology" is often associated with ways of presenting information to people, but human warmth can sometimes be more important than information. So I can really relate to what you said about the air. One cannot feel a lot of human warmth in Roppongi. Oh, but I better not talk negatively. (laughs)