69 Rika Eguchi(Art Director/Artist)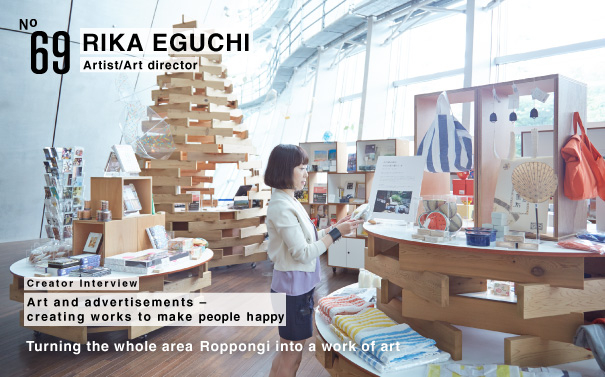 Rika Eguchi works in many genres: as an art director at an advertising agency she has been involved in numerous commercial campaigns, while as an artist, she has exhibited art installations at home and abroad, created an original series of tableware from her glass artworks, and designed costumes for figure skater Daisuke Takahashi. We asked Eguchi about her ideas on making Roppongi into an interesting place.
update_2016.7.6 / photo_tsukao / text_kentaro inoue
My husband proposed to me in Roppongi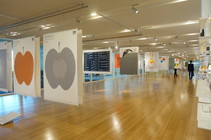 Roppongi is a place that has been good to me, both personally and professionally. In 2009 when I received the JAGDA New Designer Award, I participated in an exhibition in Roppongi, and then I was invited to be juror for the JAGDA awards. When I was a student, a museum shop in Roppongi Hills agreed to sell the "Barnbrook's Eggs" that I made. As soon as it opened, the "Souvenir from Tokyo" shop at the National Art Center, Tokyo started selling the items too - although I've stopped making them for the time being.
On a personal level, my 30th birthday party was held in Roppongi and it was also here that my husband proposed to me. I no longer feel that way, but when I was younger and single, I felt that all the memorable events had to take place in Roppongi. (laughs)
After getting married, we often come as a family to Mori Art Museum and we also watch movies at Toho Cinemas Roppongi. For me, Roppongi is an area to enjoy something a little different from the usual daily routine. These days, Roppongi seems to have become posh and conservative and though there is nothing wrong with that, I wish the place would become a little more adventurous. (laughs) Then I would want to come here more often.
An area where art is visible in every direction you look at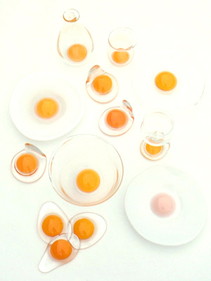 If Roppongi is to be called an area of design and art, I think art should be prevalent in the whole area and the streets should be as interesting as the artworks. Otherwise, it won't be exciting. Instead of playing safe and doing something that has proved successful elsewhere, I think you should do something daring that breaks the mold.
For example, you could place artworks everywhere so that as soon as people walk out of the station, they see artwork in every direction they look at. It's nice of course, to have public art installed in the streets and to appreciate works in art museums, but you could come up with something really different if the concept was to turn the whole area into a work of art, rather than just a place to showcase artworks. Instead of relying on pieces of artwork, I think art should be expressed in the area as a whole.
You could ask questions like, "What would the sign boards in an art town look like?" or "What kind of advertisements would be appropriate for an art town?" The reason I go to art museums to look at art is because I want to open my mind and see different ways of looking at things. I think art is about presenting totally new values and artists are people who discover new perspectives. So the signboards and advertisements in an art town should not be of the kind you've seen somewhere before; they should be riveting.
If it becomes an impactful place where it is obvious from the moment you walk into it that it is in area developed in an extraordinary way, I'm sure people will be saying "I have to see Roppongi!"
Stretching the boundaries of work
When doing my work, I always try to stretch the boundaries of advertising or design as much as possible. In advertising, the medium is set, and there are many restrictions. Perhaps it would be interesting to make Roppongi into a place that is permissive of all kinds of advertisements.
For instance, you could set up a space exclusively for advertising. The advertising would not be of the usual kind; artists would be in charge of the visuals and instead of advertisements on flat surfaces, monuments could be installed or performances could be staged. The advertising slogans could be thought up by people who are not professional copywriters. A creative director would gather all the different elements and make them into coherent advertisements.
Roppongi could become a place where never-before-seen kind of advertisements are made; if its reputation spreads, people around the world will want to come and see for themselves and there will be passing of information. That would inevitably attract potential clients. Roppongi will come to be recommended as the place to make interesting advertisements.
Not distinguishing between art and design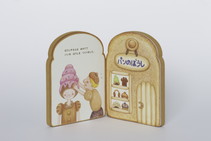 While working at an advertising agency, I make my own works such as installations and picture books; I don't usually think about whether what I am doing is design or art. I'm satisfied if what I create serves its purpose. When doing advertising, of course I want to sell the product and want people to like it, and I am aware of the things that the client wishes to convey to the customer. In art, I just create things in line with my inner urge, or in line with a certain theme.
The common element in advertising and art is the need to think about how you can convey your thoughts to people. Sometimes, instead of conveying thoughts in a straightforward manner, it can be interesting to convey them in a totally unexpected way. So my challenge is to constantly think about creating expressions that have never been seen before.