40 Daito Manabe (Media Artist) × Mari Ohno (Sound Artist)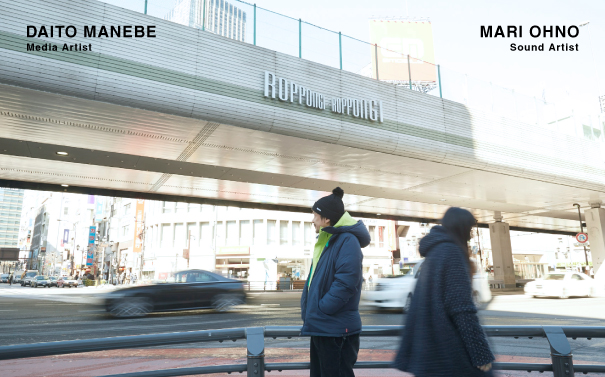 Finding it difficult to become friends with Roppongi
Manabe I was a DJ from age 18 to around 21, and during that time, I was in Roppongi almost every night. So Roppongi makes me think of clubs, music and nightlife. I used to drink with my father in a bar near here, and I lived in karaoke-boxes. I was quite a pathetic person. (laughs) How about you, Ohno-san?
Ohno The first time I came here was around 10 years ago. I visited an exhibition at the Mori Art Museum which had just been built at Roppongi Hills, so my relationship with Roppongi isn't that long.
Manabe I used to come here a lot before Roppongi Hills was built, so we've been here at different times. After the construction of Roppongi Hills and Tokyo Midtown, the area of Roppongi was totally changed.
Ohno I was born and raised in Tokyo, but when I come here, I feel as if I've come to Tokyo from an outside region. Roppongi is slightly different from the Tokyo I know - it's a sophisticated place. Not many people seem to live here. I often come here for art events, but I find it quite difficult to become friends with Roppongi.
Manabe The area has certainly become polished and the atmosphere has changed. That can be both positive and negative, depending on how you look at it.
Ohno It's a nice-looking area, but I feel as if I can't open my heart to Roppongi despite our many encounters... Maybe we could become friends if we could be more frank with each other, but to me, the walls of Roppongi are thick. Nonetheless, there must be something behind those walls which I can have empathy for.
Creating residences and laboratories for artists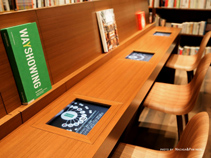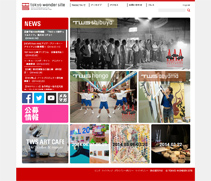 Manabe You said you want Roppongi to show you what it has behind its walls, but from the perspective of art, I don't think that Roppongi has substance. It seems as if most of the works on display here were not created in Roppongi - they are works made overseas or in another place in Japan.
Ohno So you are saying that Roppongi is where people come to work and or do activities like appreciate art, but that it's not a place where things are created?
Manabe Yes. I've made an installation for Suruga Bank's "d-labo" and I've done live performances at Roppongi Art Night where people gathered in the evenings to look at art. During that event, Roppongi looked different from usual and there was a distinctive atmosphere of freedom and fun. But I don't think Roppongi is really a place for making things and transmitting information about them.
Ohno Roppongi has many art museums and it's equipped with everything necessary to appreciate art, but it has no residences where artists from around the world can stay to make artworks. In the genre of media art, the Center for Art and Media in Karlsruhe, Germany and the Ars Electronica Center in Linz, Austria have research facilities attached to the art museums and art galleries where artists can work. I wish there were such residences in Roppongi.
Manabe There are such facilities in Paris and New York. A similar place in Tokyo would be Tokyo Wonder Site. It certainly would be good if Roppongi could transmit more culture.
Ohno At such residences, artists can make artwork by interacting with all kinds of people and being influenced in many different ways. I think there are some things that you can only learn by living in a place.
Suddenly becoming good friends with Roppongi
Manabe Roppongi is a very convenient place, filled with information and services. That makes it all the harder for people to think for themselves. It kind of makes people passive, as you said earlier.
Ohno I myself only come to Roppongi when I have a set purpose, like looking at art. I suppose that in that sense, Roppongi's position has already been cemented.
Manabe Just like watching a Hollywood movie, you can stay passive when looking at things in Roppongi. But actually, artworks are not for passive appreciation. They may not be easy to understand, but they can be interpreted and enjoyed in many different ways. Some artworks may trigger the question, "Why on earth did the artist make this?"
Ohno If artists want to make unfathomable works that have no practical use, I suppose they might as well make them in some place where there are no people... Nonetheless, if such works appeared in Roppongi, I would go, "Oh, I can relate to that!" and I think I might suddenly become very good friends with Roppongi.
Manabe (laughs) Of course, I like Hollywood movies and watch them, and there are times when I enjoy being at the receiving end of the kind of information that Roppongi relays. It's not a matter of whether something if positive or negative; people should choose things according to their moods. But I do think it would be nice if Roppongi could offer more unique site-specific fun.
Daito Manabe
Born in 1976. Graduated from the Tokyo University of Science (Faculty of Science and Technology, Department of Mathematics) and completed the DSP (Dynamic Sensory Programming) Course at the International Academy of Media Arts and Sciences. Does programming for a wide range of projects in many different genres. Engaged in educational activities and has held workshops worldwide including at MIT MediaLab and Fabrica. Was judge at the Prix Ars Electronica in 2009, and received the Award of Distinction in the Interactive Art division in 2011. At the Japan Media Arts Festival, won the Grand Prize once and the Excellence Award twice, and has been recommended by the jury seven times. Is an executive at Rhizomatiks Co. Jointly operates creative project "4nchor5la6" with Motoi Ishibashi.
Mari Ohno
Born in 1984 in Tokyo. Currently taking a master's program at the Graduate School of the Tokyo University of the Arts. Creates mainly acoustic-oriented works such as sound installations and sound effects. In addition to making her own music, composes music for visual works and makes sound compositions. Her works have been released in Japan and overseas including Tokyo Wonder Site, FILE (Electronic Language International Festival in São Paulo), and NYCEMF (New York City Electroacoustic Music Festival). Has been recommended by the jury at the Japan Media Arts Festival. Won the Grand Prix at the Tokyo Sonic Art award, and an award at the International Composition Competition and Workshop Adelaide among others.