35 Jin Katagiri (Actor/Sculptor)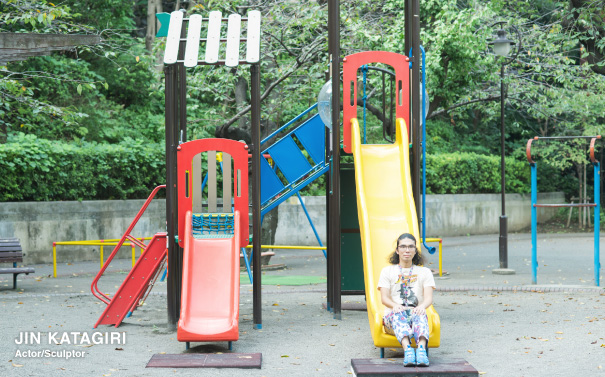 Grand and yet incongruous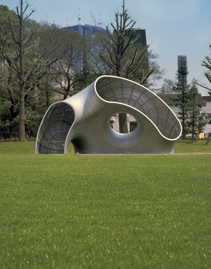 I'm doing a series in the "Tokyo Walker" magazine called "Art tour with Jin Katagiri", so I often visit art museums regardless of whether I am personally interested or not. The installations at the "Artist File" exhibition held every year at the National Art Center, Tokyo are brilliant, and "Maman", the spider-shaped work of public art at the entrance of Roppongi Hills is also outstanding.
Each separate piece of artwork is wonderful, but the works are scattered in the streets and seem to fade into the background. Roppongi has an underworld atmosphere, and yet these nice art museums have suddenly popped up all over the place, and there are these grand, ostentatious gardens and artworks, and it seems kind of incongruous.
I suppose that the size of the cave-like work "Fragment No. 5" over there (in Midtown Garden) was carefully calculated. It was probably put in its current place after a lot of thinking and planning. It's all nice and neat, but I can't help feeling that it's overdone.
When one seriously thinks about the area, one inevitably thinks of beautifying the streets and making Roppongi an area that Japan can boast to the world. But contrary to our thoughts, foreigners say that they find the messy streets of Japan interesting. In Woody Allen's movie "Midnight in Paris", there were pedantic people making snobbish talk, but alongside them were lots of seedy-looking people who created an atmosphere that is hard to describe with words. I feel that Roppongi is trying to get rid of that kind of sleaziness.
A place where people come with a sense of trepidation
I said I disliked Roppongi because it scares me, but now that I think of it, that aspect might be quite valuable. I wouldn't welcome Roppongi becoming a cheerful place where anyone could casually come to! There are so many towns like that anyway. It's good to have a district which people visit wondering if they might get killed or beaten with a bat. That's an exaggeration of course, but I think it's good to have a place where people come with a sense of trepidation.
I hope that Roppongi doesn't become like Odaiba where the whole town feels false and artificial. People who like Roppongi probably like the way it's different from places like Shibuya and Shinjuku, and feel personally connected to it.
Neat and lovely design and art may be the formal face of Roppongi but I think that more of its informal side should be shown. It's the backstage that is interesting; for example, it's fascinating just thinking about the activities behind the scenes in Disneyland. Roppongi has all kinds of things - numerous suspicious-looking multi-tenant buildings, establishments with stories from the bubble era, places frequented by Hollywood stars, salons where cultural figures gather, and so on. I think that all that unfathomable stuff shouldn't be hidden away but brought to the surface. I personally am too afraid to visit such places but I guess I have some romantic notions about them.
Roppongi lacks "strangeness"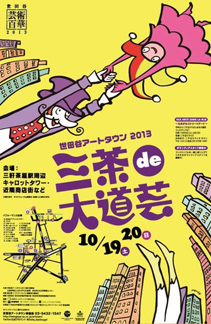 If I were told that I could make something I like for Roppongi, I would make a huge sculpture that nobody would be able to ignore. There are sculptures in almost every town, but they are usually ignored. Even the "Tower of the Sun" which has so much impact is now being taken for granted by the local residents - the people hold cherry blossom viewing parties around it. Many years ago, there was the TV program "Tensai Takeshi no genki ga deru terebi!!" where they built a massive 5-meter high Buddha statue "Daibutsudamashii" which moved. It would be a good idea to make something like that. People would definitely look at a moving sculpture.
There's an event every year in Sangenjaya called Sancha de Daidogei (Sancha Street Performers Festival) where you see foreign performers about 3 meters tall. They are on stilts, and wear glittery clothes and have pointed beaks on their faces. One minute they are resting near the street lamps and the next minute they suddenly start chasing people in the streets. It's very frightening and I've seen alarmed middle-aged women running away fast. I think the answer lies there. (laughs) I think Roppongi will become more interesting if you incorporated that kind of "strangeness."